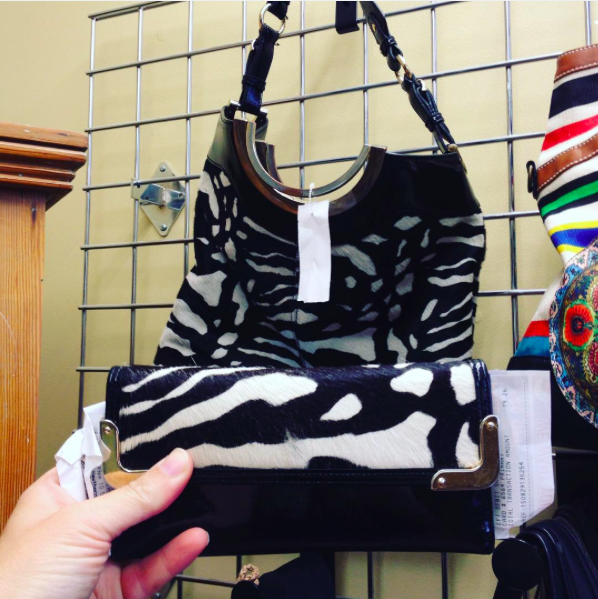 I stopped at the women's consignment shop today where I'd dropped off a pair of cheap thrift shop Danskos. I was handed $6.74 in cash and helped myself to five free plastic tubular hangers for my son's dorm room. I noticed that they had a purse that exactly matched my Sopranos-aesthetic wallet. I had to take a photo.
I bought a cabin filter and a headlight for my 2007 Prius at the auto supply shop. I was able to replace the filter myself, (thank you youtube!) but needed my husband to replace the bulb as it was a super finicky job. The two of us worked in the dark to put in the new light bulb, which was so much more difficult than one would think. But these small DIY auto jobs keep our cars in working order and our money in the bank.
I did a spontaneous big grocery shopping trip at Safeway this afternoon, which meant my paper coupons were at home. However, I took a few minutes to open the Safeway app and load e-coupons onto my club card. I saved money on onions, navy beans, tortillas, ice cream, bread and a few other staples. (Yes, ice cream is a staple!) Plus there was a $2 (maybe $3?) off a $20 purchase e-coupon! I also found a penny on the ground.
I promised my 11-year-old niece that we'd see Pitch Perfect 2 together. We ended up going on a $2-Tuesday, plus I had a coupon for free admission to the attached arcade which included $2 in nickels. She didn't want to play any games, so we ended up keeping the nickels. (My kids would never turn down a chance to play Skee-Ball!) So the movie was free. By the way, the movie was dreadful, and featured an extremely racist depiction of a Guatemalan student whose only lines were about how she had diarrhea or was going to be deported, etc. It amazed us that the script went through however many hands without someone calling out the writers on this bizarrely offensive element. Did anyone else notice this?
I was treated to a lovely celebration dinner by my aunt Karen and Uncle Jimbo who live in Nebraska. My 72-year-old mother just finished her master's degree, and now has the official diploma to prove her superiority! My aunt and uncle weren't able to travel to Portland, but they did arrange for all of us to dine at a lovely restaurant as their guests. I have both a very smart mother and very generous relatives! Thank you!!!
Now your turn. What frugal things have you been up to?
Katy Wolk-Stanley
"Use it up, wear it out, make it do or do without."
Click HERE to follow The Non-Consumer Advocate on Twitter.
Click HERE to follow The Non-Consumer Advocate on Instagram.
Click HERE to join The Non-Consumer Advocate Facebook group.
Click HERE to follow The Non-Consumer Advocate on Pinterest.