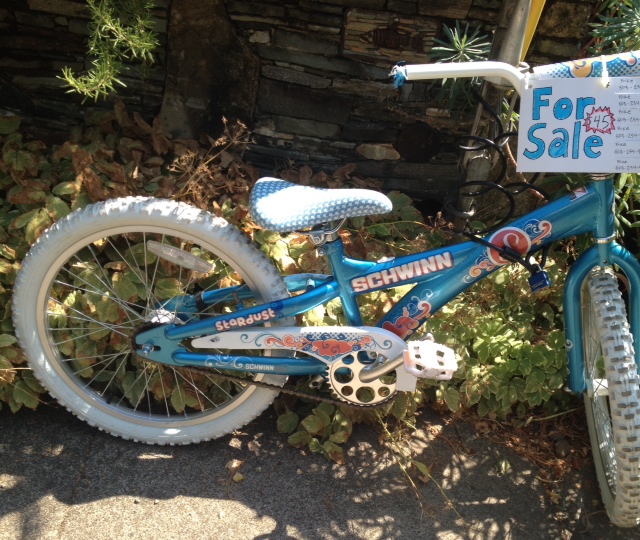 I ran errands on foot yesterday. I dropped off plastics recycling, picked up a free RedBox movie (Insurgent, it was completely dreadful!) and intended to pick up hamburger buns at Fred Meyer, but spaced it out. Instead I used the two buns we had on hand, and then cut circles from regular bread which I then lightly toasted. Dinner was black bean burgers from beans I'd prepared in the slow cooker.
I hung two loads of laundry on the clothesline, one of which stayed out overnight as there was no forecast of rain.
I completely reorganized my kitchen, as certain counters had become overcrowded and difficult to keep clean. (No reason to have two bottles of Asian fish sauce at arm's reach at all times!) The kitchen now looks spacious and massively less cluttered. A deliberately arranged and decluttered living room looks magazine ready, which turns out to be true in the kitchen as well.
I hit the drop-in financial aid booth not once but twice during my son's college orientation. The poor financial aid officer probably needed a nap after I was done picking her brain, but we were able to figure out some great ideas of how to cash flow his freshman year of college. For example, it only costs $15 extra per quarter to pay in three installments instead of forking over the entirety of tuition, plus room and board on October 9th. This will allow us to earn tuition money as the year progresses. I also took full advantage of opportunities to talk to the directors of different departments such as career services and housing. I also picked the brain of the housing director about how my son can increase his chances of being chosen as a resident assistant.
The bike I'd bought to resell on Craigslist has generated no interest, so I decided to lock it up in front of the house with a "For Sale" sign, which should help as it's a darling, yet high quality bicycle. I also reposted all my other Craigslist listings.
Now your turn. What frugal things have you been up to?
Katy Wolk-Stanley
"Use it up, wear it out, make it do or do without."
Click HERE to follow The Non-Consumer Advocate on Twitter.
Click HERE to follow The Non-Consumer Advocate on Instagram.
Click HERE to join The Non-Consumer Advocate Facebook group.
Click HERE to follow The Non-Consumer Advocate on Pinterest.