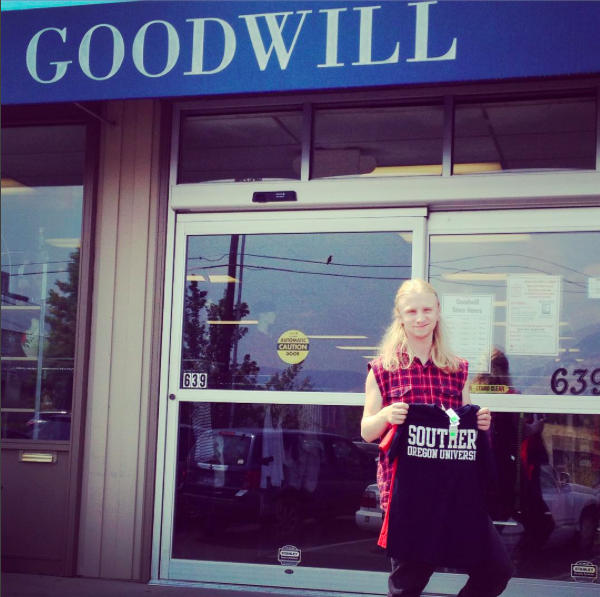 My older son and I just got back from his two day college orientation, which meant three days away from home since the orientation began at 10 A.M., inconveniently five-and-a-half hours away from home! (Didn't exactly relish leaving home at 4 A.M. to get there on time.)
I bought a fat loaf of French bread the morning that we left, and assembled a big ol' turkey sandwich, which I then cut into fourths. I threw some 6/$1 Grocery Outlet yogurts into a cooler, as well as a bag of mini carrots, I then tossed together some rotini and kale pesto. I filled reusable water bottles and poured a cup of coffee into my thrifted ceramic travel mug. Reusable stainless steel spoons and forks also made their way into the cooler.
Thus fortified, we were able to get from point A to point B without buying any food or drinks. We refilled the water bottles at rest stop water fountains.
My son's dorm room accommodation was included in the free orientation, (Ha, not really free at all!) but I needed to book a motel room. Southern Oregon University is located in the beautiful town of Ashland, home to the world famous Oregon Shakespeare Festival, which is great, but the downside is that finding a cheap place to stay is never going to happen. I pored through Airbnb and HomeAway listings, but they were more expensive than a cheapo motel. I ended up staying at the locally owned Timbers Motel, which looked decent, was relatively inexpensive and was literally across the street from the school.  I clicked through eBates and Priceline to get cash back and a better deal, which brought the price down to $191 for two nights minus whatever I get back from eBates. It included a continental breakfast, which was a plus. It wasn't amazing, but it did the trick. And the room? Pretty much perfect.
After dropping our stuff in the room, we went into town for pizza slices. Ashland is full of pricey dining options, but we'd discovered Martolli's pizza last year and made a beeline for it. Fifteen dollars stuffed the two of us, which included the tip. This ended up being the only money we spent on food.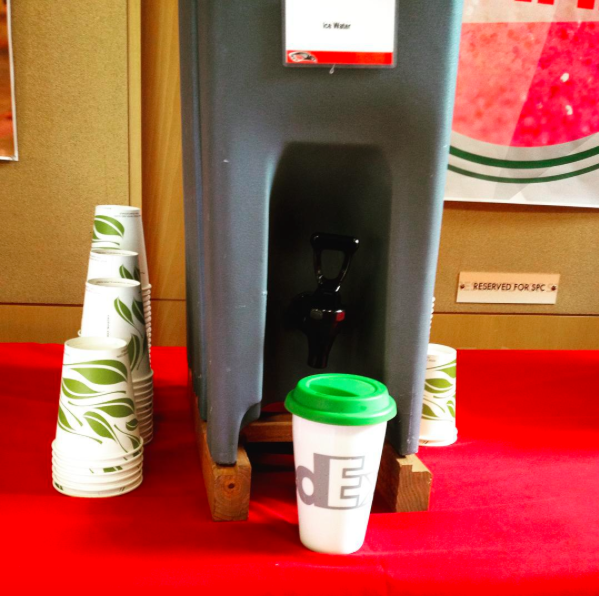 Luckily, the orientation included a dining hall swipe card for both of us. This included a breakfast, lunch and dinner! Plus, there was free coffee, tea, soda and ice water available throughout. I brought my ceramic travel mug to every event and was able to avoid single use cups. There was a tea which included cookies and cut up fruit, and I chose to eat the fruit on a paper plate with my fingers rather than take a plastic fork. Yeah, I got a little sticky, but all that free coffee made me very familiar with bathroom locations, so there was frequent hand washing. We could have easily spent money on food between meals, but we didn't.
The University bookstore is run by Barnes and Noble, and includes a large section for logo gear. But I knew there was a Goodwill in town, which would be my first choice. I follow The Compact and choose to only buy used, which I rarely stray from. Not surprisingly, Goodwill had a myriad of choices, and my son picked out two $2.99 SOU T-shirts. (The T-shirts were categorized by color, which I'm usually not a fan of, but helped in this case.) He allowed to me snap one quick photo of him in front of the shop, even though the sun was directly in his eyes.
We needed to leave the motel yesterday morning, as we'd be at orientation until after the 11 A.M. check out time. But I chatted with the manager, who let me store the last half of our turkey sandwich in their refrigerator. (Didn't relish leaving the sandwiches in a hot car all day, even in a cooler.) I also talked to him about how I'd reserved through Priceline, but would rather book directly for future trips as they're a small business. He told me to call the motel after checking Priceline, and that they'd match the price. Cool. Money for a small business owner instead of William Shatner. (Priceline spokesman.)
The trip home saw us eating the last of the sandwich, plus finishing the carrots. We refreshed our water bottles at an Arby's connected to a gas station. We may have bought two Payday candy bars, as they were buy-one-get-one-for-a-dime at the gas station.
We were hungry by the time we hit home, but I threw together a quicky dinner of macaroni-and-cheese with kale pesto, as well as some pierogi's from the freezer, which also got the kale pesto treatment. Mmm . . . kale pesto . . . .
In all we spent:
$191 for the motel.
$12.50 for pizza.
$5.98 for two T-shirts
$9.50 for tips, (pizza, school barista and the motel housekeeper.)
Around $25 for gasoline. Thank you, Prius and your 50 MPG abilities!
$1.48 for two candy bars.
Traveling can be both expensive and wasteful, but with a bit of forethought that doesn't have to be the case. Being thoughtful and deliberate can save a huge amount of money, plus keep waste to a minimum. College is a huge money suck, but I refuse to wholly give in.
P.S. This trip saw me pick up a dime, a nickel and three pennies from the ground.
Katy Wolk-Stanley
"Use it up, wear it out, make it do or do without."
Click HERE to follow The Non-Consumer Advocate on Twitter.
Click HERE to follow The Non-Consumer Advocate on Instagram.
Click HERE to join The Non-Consumer Advocate Facebook group.
Click HERE to follow The Non-Consumer Advocate on Pinterest.