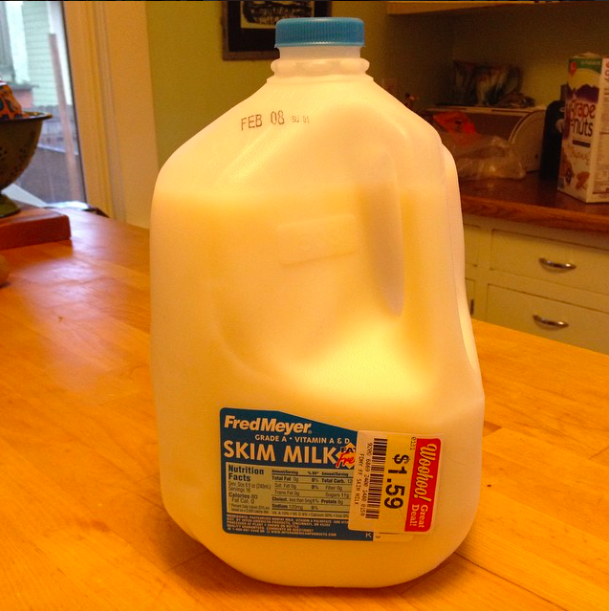 Five things that make me happy:
1) The Non-Consumer Advocate had 105,741 hits last month, which is the first time it's gone over 100,000 since I was on The Today Show.
2) A local blog reader e-mailed me about a great 1998 Honda four-door Civic that her son will soon be selling. My husband is skeptical of such an old car, but I would love to have a zippy little car that gets great gas mileage. Plus, something that we could easily pay cash for would be a huge bonus.
3) I walked down the boulevard yesterday to run errands, which were both productive and extremely frugal:
I found 35¢ on the ground.
I was able to buy a gallon of milk for $1.59.
I'd added an e-coupon to my Fred Meyer loyalty card which gave me a free box of five energy bars. Hello, school lunches!
I bought a large bundle of organic kale for 99¢, which has since been made into pesto. This was cheaper than the non-organic kale!
I stopped in at Pastaworks, (amazing gourmet store) and asked if they ever had any large jars to give away. They said they did, so they took my name and number and will let me know when I can come by to pick some up.
4) Leftovers. I rarely buy grab-and-go food, so leftovers are a real treat as it's just a matter of heating them up or simply eating as-is. I just heated up the last of some leftover red lentil soup (and even swirled a spoon of kale pesto into it.) So delicious! My teenage sons are also huge fans of leftovers and complain mightily if a meal doesn't provide significant extras.
5) The health and wellness of my family.
Thing that's pissing me off:
 1) I've had more spare time on my hands than usual lately, and I seem to be squandering it. I should be working on household projects, writing, fostering friendships and other worthwhile endeavors. Instead I'm goofing around on the internet, puttering around the house and somehow wasting what should be a great opportunity. I  know it's because my focus is all over the place lately, but I should still be able to accomplish something with all the time I've been given. Am I just shoulding all over myself?
Now your turn. What's making you happy, and conversely what's pissing you off?
Katy Wolk-Stanley