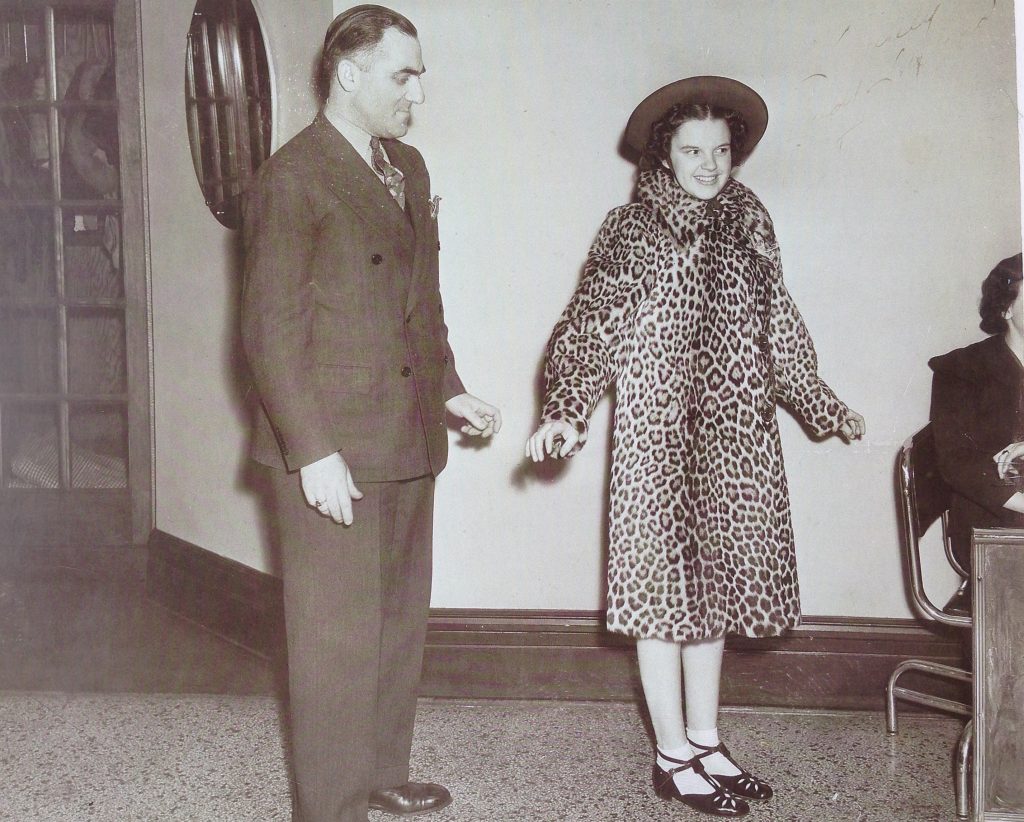 It's time again for Five Things That Make Me Happy And One Thing That's Pissing Me Off. Why add the "One Thing That's Pissing Me Off?" Because I'm a realist, that's why.
Four things that make me happy:
My father recently returned from a trip to Pittsburgh, and came home with an envelope full of wonderful old family photos. This included an iconic photo of my grandfather selling a fur coat to a very young (and very excited) Judy Garland. My grandfather sadly died when I was eleven years old, but I have so many fond memories of visiting his fur store and cozying up with the merchandise. Yes, it's not exactly the most politically correct business in this day and age, but that has zero effect on my memories. Especially since my grandfather used to let me try on coats and then pretend to be a mannequin in the store window. As a complete aside, who here would not buy Judy's shoes? I know I would.
I love that there's a household consignment shop a few short blocks from my house. I was able to throw a few things in a grocery bag yesterday and walk home with $3.30 in my wallet. True, this is hardly a brag-worthy amount of money, but I was walking over either way to grab a Mexican food cart burrito for dinner. Because my consignment shop has an drool-worthy food cart in the parking lot! I grumble in my head about the precious annoyingness of Portland hipsterdom, but sometimes it's like heaven has shined down upon my neighborhood.
I had a court date on Friday related to a ticket I got back in May for driving with expired plates. The ticketing officer told me that he'd reverse the $110 fee if I took care of it within thirty days. I did take of it immediately, but for various reasons the issue stretched out for more than four months. This stupid ticket has been making me extremely anxious, and I'm happy to finally put the issue behind me. (Just writing about it activated being able to count my pulse rate from the pounding in my ears.)
I'm really looking forward to my trip to New York City in early December. I truly believe that having something to look forward to is a huge component to a happy life, and my upcoming week to NYC fits well within that category. My sister and I are already planning out how to get the most from our days, and I'm contacting friends to make sure we'll be able to arrange get togethers.
One thing that's pissing me off:
I've been struggling with mortifying writer's block that's like a physical weight over my entire being. Not just because of internal pressure, but also because I know that it makes me look like a flake to those who are expecting me to write. I know what I need to do, but somehow my normal tricks aren't working. (Change the physical location where I'm writing, turn off the internet, write out concrete goals, etc.) Maybe confessing to my writer's block on this public forum will help, but until that works I've written out the Anne Lamott quote of "shitty first draft" and taped it over the TV screen. Netflix, be gone!

Edit: I completed one of the articles that's been weighing me down. I've got one to go and then a big picture project that's top secret!
Now your turn. What's making you happy, and conversely, what's pissing you off?
Katy Wolk-Stanley