It's time again for the Goal of Week here at The Non-Consumer Advocate. And for those who missed last week's post, "Goal of The Week," it was described as:
"Not a soccer goal, but a personal goal. A single do-able, not overwhelming goal. A concrete goal. A reachable goal. A realistic goal."
My goal from last week was to clear this clutter-some corner of my bedroom, which had become a catch-all for . . . well . . . everything.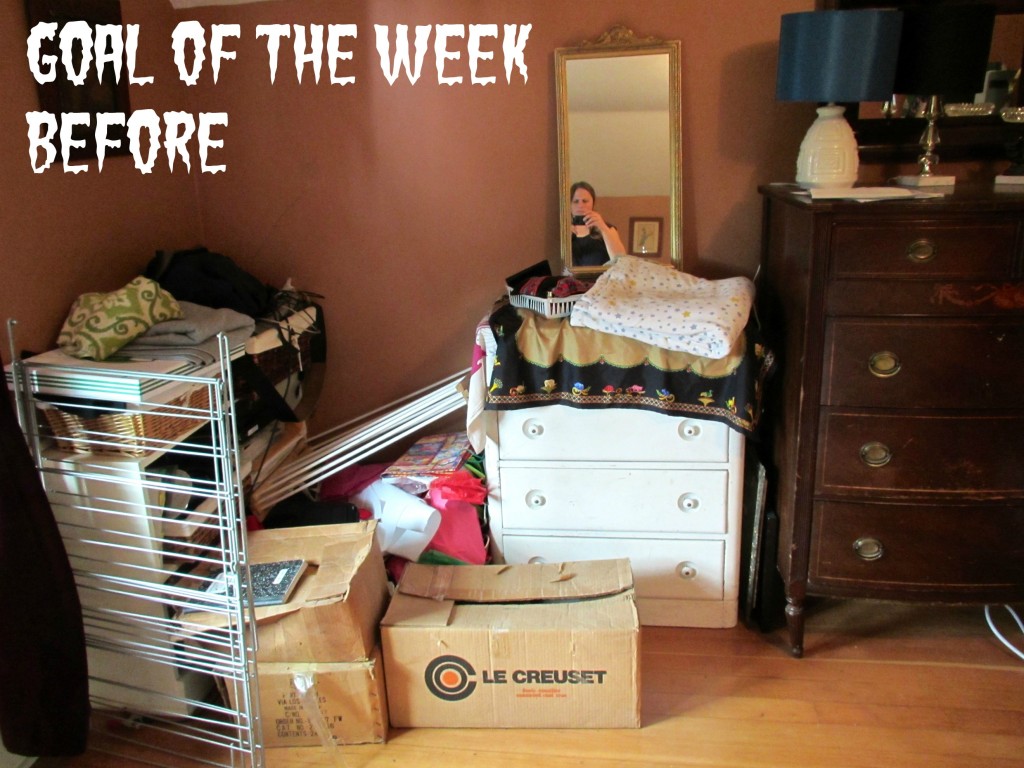 Here's what I did:
Sold the folded duvet cover.
Moved boxes into our storage area.
Reorganized wrapping paper, and stashed it in our other clutter corner of the bedroom.
Brought one drying rack downstairs to replace the one my son kicked a soccer ball into and broke. (I plan to repair it, but haven't taken the time to figure it out yet.)
Tidied the baskets which hold my husband's camera paraphernalia.
Moved extra fabric to my sewing/crafting area.
Moved miscellaneous doo-dads from a plastic bin and put them into a pretty vintage bowl.
The area is not perfect, (I actually hate the white dresser, but it holds all of our family photos and I'm hesitant to move it into our unheated storage area) but it's a whole heck of a lot better than it looked a week ago!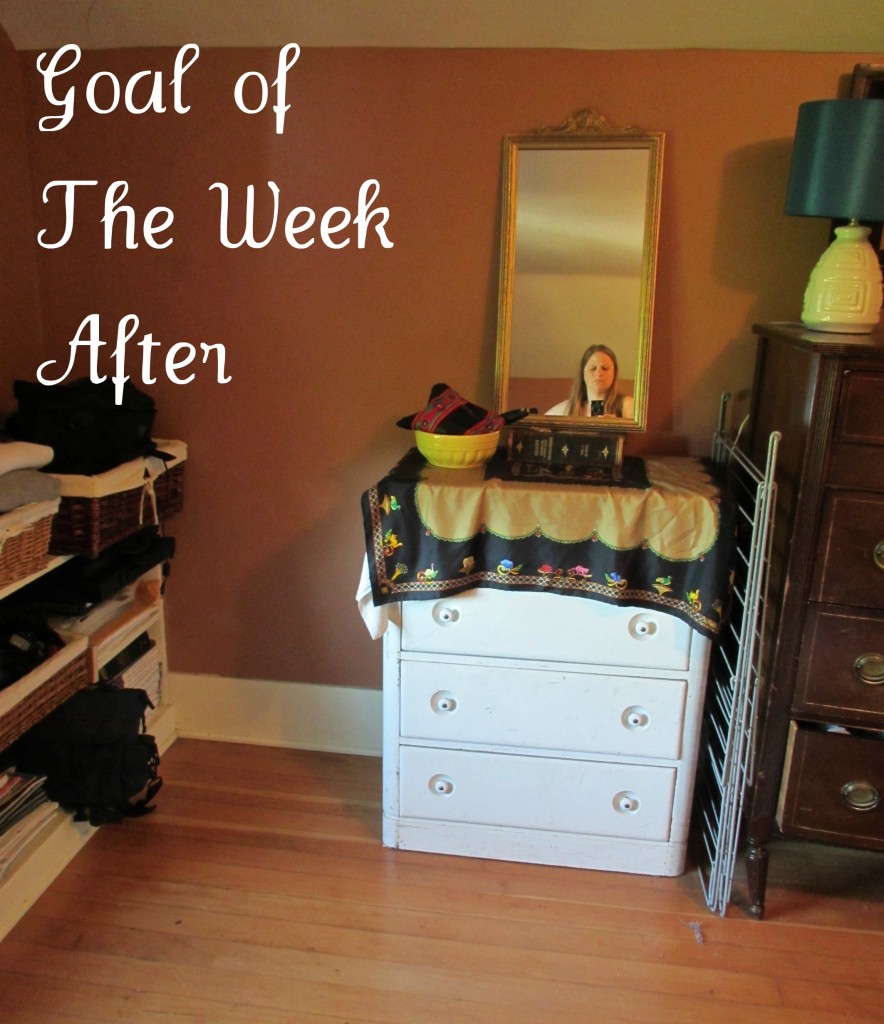 This week's goal is to tidy up and organize my backyard.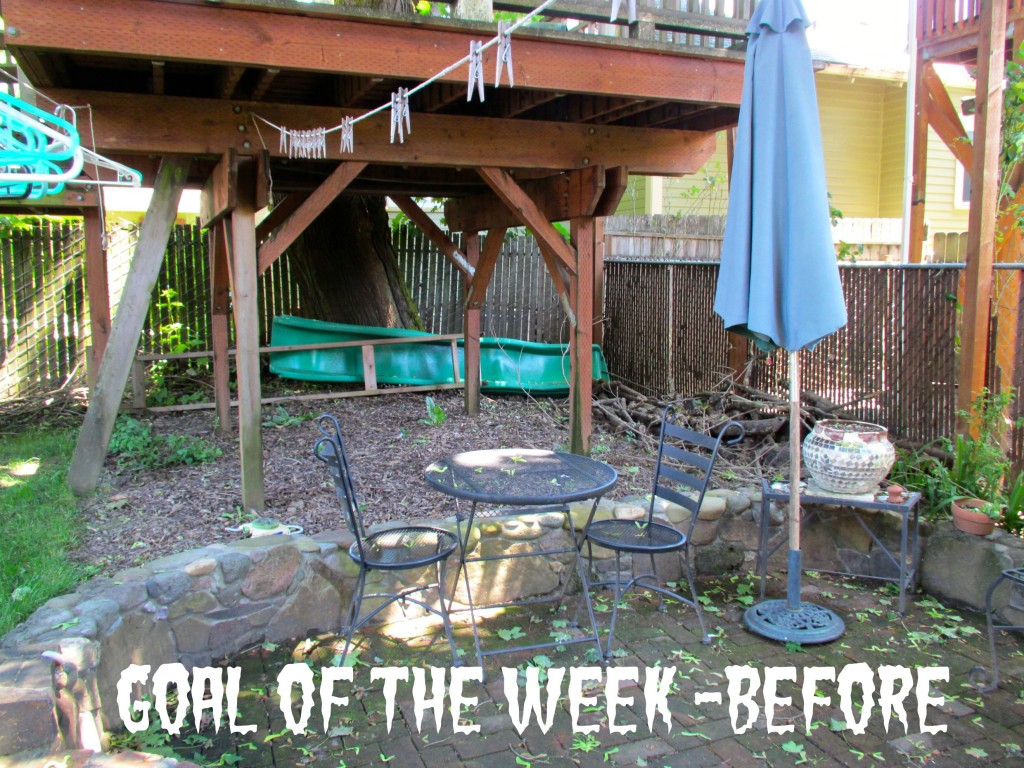 This will involve:
Power washing the rock wall and slimy brick patio. (The neighbors let me borrow their power washer.)
Clearing the tree house from its layer of dead leaves and twiggery.
Selling the unused slide.
Getting rid of the unwieldily pile of dead branches and cut wood.
Putting teak oil on the patio umbrella pole, as the wood is horribly dry.
Weeding.
I am loving this new bite sized goal approach, as it's just so darn reachable! So much better than expansively horrible goals as "clean my house" and "organize everything."
Did you work on a "Goal of The Week?" And if so, are you ready for a new goal? Please share your projects in the comments section below.
Katy Wolk-Stanley
"Use it up, wear it out, make it do or do without."
Click HERE to follow The Non-Consumer Advocate on Twitter.
Click HERE to join The Non-Consumer Advocate Facebook group.
Click HERE to follow The Non-Consumer Advocate on Pinterest.
Dünya üzerinde kullanılan geçerliliği ve güvenirliği kanıtlanmış en yaygın uygulamadır. Zeka seviyesini(IQ) belirlememizde ve gerekli yönlendirmeleri yapmamızda yardımcı olur.
WISC-R zeka testi 1949 yılında David Weschsler tarafından meydana getirilmiştir. Daha sonra gerekli düzenlemeler yapılarak günümüzdeki haline getirilmiştir. Ortalama olarak 1-3 saat sürede test tamamlanmaktadır. Testin süresi uygulanan çocuğun performansına göre değişim göstermektedir.
WISC-R yaş grubu olarak 6-16 yaşları arasında ki çocuklara uygulanabilmektedir. Bunun üzerinde veya altında ki yaş gruplarına farklı testler uygulanmalıdır. Test zekayı oluşturan birçok özellik hakkında bize fikir verir ve çocuğu daha yakından tanımamıza yardımcı olur. Her biri genel zeka bölümünü oluşturan birden fazla yeteneği ölçen WISC-R zeka ölçeği, 12 alt testten oluşmaktadır. Bu 12 alt test sözel bölüm ve performans bölüm olmak üzere ikiye ayrılan bir sınıflama da çocuğa sunulmaktadır. Sözel bölümü oluşturan alt testle Genel Bilgi, Benzerlikler, Aritmetik, Sözcük Dağarcığı, Yargılama ve Sayı Dizisi'dir. Performans bölümündeki alt testler ise Resim Tamamlama, Küplerle Desen, Parça Birleştirme, Resim Düzenleme, Şifre ve Labirentlerden oluşmaktadır.
WISC-R Zeka Testi genel zeka bölümü hakkında bir yordama yapabilmemizi sağlarken, çocuğun test sırasındaki davranışları ve sorulara verdiği yanıtları da birebir gözlemleme şansını sunmaktadır. Bu sayede davranış problemleri ve ileride oluşabilecek kişilik bozukluklarının tanısını koyabilmede yardımcı olmaktadır. Çocuğun teste yorumu test sırasındaki sıkılma durumu, test sırasında bahsettiği konulardan çocuk ile ilgili genel bilgi edinebilmek de mümkündür. Sözel bölümü oluşturan alt testler sözel anlama-kavrama gerektiren bilişsel etkinlikler de çocuğun içerisinde bulunduğu yaş normlarına göre zihinsel gelişim düzeyini değerlendirirken, performans bölümündeki alt testler ise çocuğun algısal organizasyon gerektiren bilişsel etkinliklerde ne durumda olduğunu değerlendirmeye yardımcı olur.
WISC-R Zeka Testi'nin alt testleri arasındaki ilişkilere bakılarak çocuğun mekansal ve kavramsal yetenekleri, bilgi kazanma ve kullanabilme yetenekleri ve genel bilgisini sıralama yetenekleri gibi yetenekleri de değerlendirilebilmektedir. Bu gibi yeteneklerde çocuğun ne durumda olduğunu görmek onun eğitim planını oluşturmada eğitimcilere de yardımcı olmaktadır.
WISC-R zeka testi uygulamasına girecek olana bir çocuğun uygulamaya başlamadan önce gerekli bazı koşulların sağlandığından emin olunmalıdır.
-Açlık olmamalıdır
-Dinlenmiş olmalıdır
-Uykusunu almış olmalıdır
-Hasta olmamalıdır.
-İlaç kullanılıyorsa ve ilacın sakinleştirici/uyku getirici etkisi varsa ilaç etkisi altında olmamak
Testin sonucunu etkileyecek tüm bu koşulların iyiliği sağlanmış olması gerekir. Rahat kıyafetler tercih edilmelidir. Tüm bu koşullar muhakkak sağlanmalıdır. Bu koşulların yerine getirilmemesi testin sağlığı açısından olumsuz bir durum oluşturur. Ayrıca kaygı, gerilim, endişe ve tehdit algısına neden olabileceğinden çocuğa zeka testine götürüldüğü de söylenmemelidir.Çocuk uygulamaya getirilirken "test, zeka testi, sınav" gibi terimler duymamalıdır. Bunun yanında çocuğa "İyi yap, dikkatli yap, iyi dinle" gibi kaygı arttırıcı komutlar verilmemelidir. Çocuğa gerekli olan açıklamalar uygulama öncesinde psikolog tarafından yapılır.
WISC-R zeka testi uygulanarak çocuğun sözel anlama-kavrama, algısal organizasyon ve dikkatinin dağılabilirliği gibi alanlardaki durumuna da bakılmaktadır. Bu gibi alanlardan herhangi birinde sorun varsa (bazen birkaçında veya hepsinde de olabilmektedir) bu durum tespit edilip gerekli müdahale yapılmaktadır. Testin sonuçları yapıldıktan bir hafta içersinde rapor halinde aileye verilmektedir.
WISC-R ZEKA TESTİ FİYATI
Wisc-r zeka testi fiyatı özel merkezlerde  farklı fiyatlarda olabilir. Testi yaptırmadan önce fiyat araştırması yapılması gerektiği unutulmamalıdır. Merkezin kadrosunda Wisc-r zeka testi yapacak uzman yoksa merkezler bu hizmeti dışarıdan alabilir. Dışarıdan alınan bu hizmet fiyat farklılıklarına neden olabilir. Testi yaptırmadan önce uzman hakkında bilgi istemeniz daha doğru olacaktır.