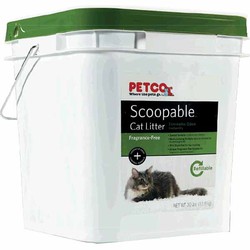 It's been a month and half since I wrapped up Zero Waste Week, and although I am no longer buying the $4.50 half-gallons of glass-bottled milk, I am incorporating some other permanent Zero Waste changes into my life.
As you may recall, I had already made most of the easy changes. I use my own grocery and produce bags when food shopping, I pack school and work lunches in reusable bags and containers; and by only buying used I avoid almost all product packaging.
The easy choices.
But there were a number of thing I planned on buying in bulk when I ran out of their packaged counterparts, one of which was cat litter. Yes I know that there is compostable cedar cat litter, but I went that route once only to be rewarded with secret kitty urine spots which included the back of the coat closet and an upholstered chair.
That was a short experiment.
We've been buying Costco clumping litter ever since. However, it comes in a big thick plastic non-recyclable bag, which has always irked me. But when a reader commented about the scoop-your-own litter at Petco I was intrigued to give it a try. Happy to discover that there was a Petco not too far from the house, (I am loathe to drive long distances for a single errand) I pointed the ol' mini-van to Petco in the name of research. And sure enough, Petco does sell scoop-your-own litter for the packaging adverse. You are required to make a one time purchase of a pre-packaged hard plastic tub of litter, but it then forever refillable.
The cost?
$11.99 for a 30-pound tub of clumping litter, which can later be refilled for $9.99. This ends up costing 2¢ per pound more than the Costco litter, but even I am not that cheap to forgo this packaging-free option.
So far the cats have not put up any protests, although the new litter is mixed in with the old, which should help to ease the transition.
Because peeing throughout my house is not an option. Ever.
The next Zero Waste change will be bulk tea, as I'm still using up the last box-and-a-half of Red Rose tea bags. And I have continued to have New Seasons put all meat purchases into compostable deli containers.
We're currently putting out around 3/4 of a grocery bag of garbage every other week. Which for a family of four is pretty damned good.
Have you continued to make Zero Waste changes in your life? Please share your thoughts in the comments section below.
And don't forget to check out the Zero Waste Home blog for endless Zero Waste ideas and inspiration!
Katy Wolk-Stanley