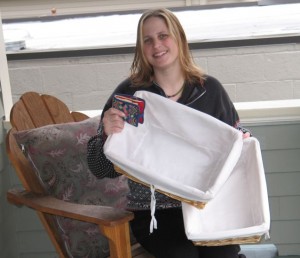 I wrote a few days back about how my wallet from 1983 was anonymously mailed to my father's house. It was a time capsule of my 15 year old self, and contained $6.05 of post-1983 currency, which I wanted to spend on something special. I asked you, the readers for advice on how this money should be spent.
Advice ran the gamut from complete and utter teenage splurges to helping those in need. Here are a few of your suggestions:
"I would go buy some blue mascara and a couple of 99 cent music downloads for, say, Abba or Night Ranger, lol."
"I would buy something for the family to enjoy that a 15 yo would like. A half gallon of ice cream with hot fudge sauce or butterscotch sauce, jimmies (or sprinkles), real whipped cream, etc. then have an ice cream party in rememberence of your teen years!"
"Send it to Haiti…it might just make some teenage Haitian girl's day!"
"I think you should go to the thrift store and see what you can find for $6.05 and share with us what you bought."
I went with suggestion number four and took my cash to one of my favorite Goodwill stores. And you know what I found? Exactly the type of baskets with white fabric liners that I've been keeping an eye out for! Exactly. Each was marked at $2.99, so this spent the $6 perfectly. However, I was able to talk the checker down a dollar as one of the liners was slightly stained, (which easily washed out.) This left me with enough money for:
A jumbo sized Snickers bar, which was my favorite treat when I was fifteen. (Luckily I danced for three hours per day plus theater classes!) I haven't bought the candy yet, but I will savor every bite, and maybe even listen to a little Men at Work.
She just smiled and gave me a Vegemite sandwich!
Thank you to everyone for your great (and humorous) suggestions. I wanted to do something my 42-year-old self really liked, while indulging my 15-year-old alter ego. Although I loved the idea of the blue mascara, I just couldn't waste my money on something so useless, and as kind hearted as the Haiti idea was, I just gave money to Mercy Corp.
Katy Wolk-Stanley
"Use it up, wear it out, make it do or do without"