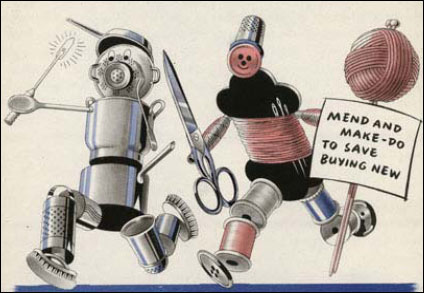 I have written past columns about five things that make me happy. I like these mini-posts because they're very to the point and keep the long winded side of me in check. It's good to remind myself of the happy things, as life can get a bit zooey around here at casa Wolk-Stanley.
But today's five things that make me happy list doesn't seem complete without a chaser of one thing that pisses me off. It somehow balances the too good to be true quality of the study of happiness. So, here goes . . .
Five Things That Make Me Happy, and One Thing That Pisses Me Off
Making new friends outside of my normal circle. (My circle normally includes nurses, neighbors and soccer moms.)
Discovering that my odd collection of mismatched foodstuffs can actually add up to a delicious meal. (Baked macaroni and cheese, made with bacon, peas, aged white cheddar, whole wheat rotini and bread crumbs from frozen crusts.)
That Joanne one of my blog readers mailed me a "Mend and Make Do to Save Buying New" coaster all the way from England. So cute, and so utterly perfect on my $15 antique desk.
Randomly pulling an audio book from the library shelves that ends up entertaining me through hours of dishwashing, laundry folding and gardening. (Thank you, The Secret Adventures of Charlotte Bronte!)
Opening my kitchen junk drawer to find it meticulously organized, thanks to the somehow lid-free Japanese lunch containers. (Thanks kids!)
The brand new ring on the finish of my lovely antique desk.
Okay now, your turn. What makes you happy, and conversely, what pisses you off?
Katy Wolk-Stanley
"Use it up, wear it out, make it do or do without"