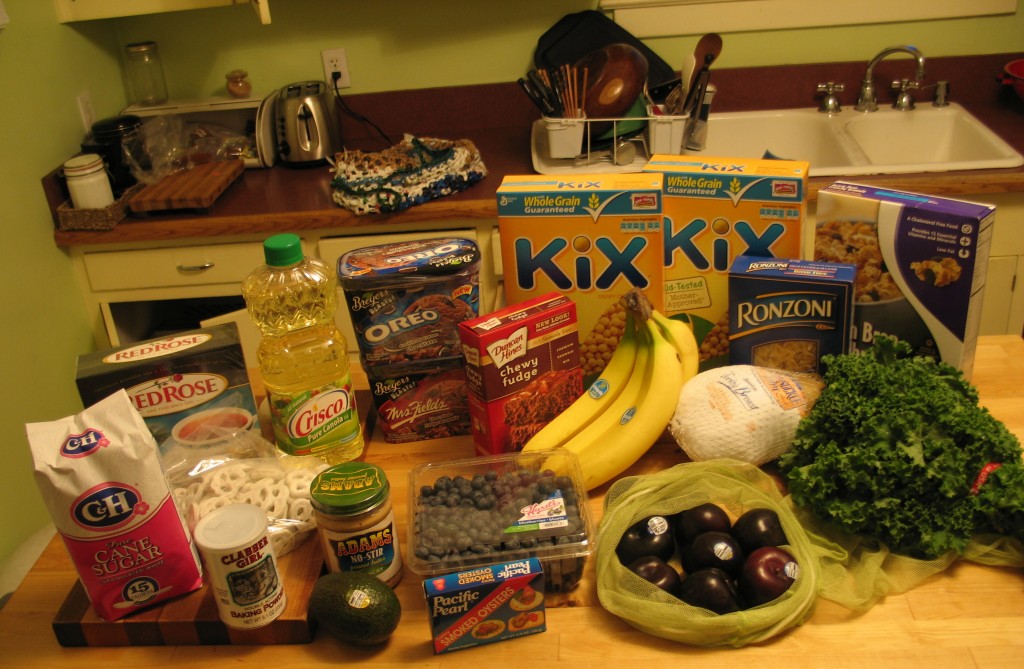 Today is day twenty-one of the July Food Stamp Challenge and I've done one more big grocery shopping trip. I worked today, and after a short nap in front of Netflix's American Pickers, I gathered up my coupons and pointed the mini-van in the direction of Safeway. Lately I've been mostly shopping Fred Meyer (Kroger) and New Seasons as they're walking distance from my house, but I had another $10-off-$50 Safeway coupon that was too good to go to waste. (The Safeway near my house was demolished and they've been sending me these coupons to ensure that I don't elope with the mailman turn my loyalty to another store)
Here's what I bought:
5 pounds of sugar*
2 boxes of Kix cereal*
1 box of Raisin Bran*
Baking powder
Box of 100 tea bags
Canola oil
Adams peanut butter
1 box of pasta*
Smoked oysters
1 box of brownie mix
2 containers of ice cream*
Frozen turkey breast (I had a rain check)*
Bananas
Red plums
1 Avocado
Kale
2 pounds of blueberries
1 pound bag of yogurt pretzels
* = Used a coupon
The grand total was $43.30, which was 47% off the regular prices. (Of course, I would never have paid those "regular prices," so this savings is illusionary.)
Yesterday I also bought a $2 head of gem-like red lettuce at Pastworks, as well as a half-pound of grass-fed hamburger for $2.25 at New Seasons and $1.87 for garlic and an avocado at Fred Meyer. (All a quick walk from my house.)
This brings my monthly total to $290.40 for the month of July. This leaves us $113.60 for the rest of the month, which is plenty, considering that our fridge and cupboards are chock full o' staples.
I think we should have a nice healthy donation for our food bank at the end of the month!
Katy Wolk-Stanley
"Use it up, wear it out, make it do or do without"