It's Monday here at The Non-Consumer Advocate, which must mean it's time for another fantastic giveaway! This week's giveaway is for not one, not two, but three eBooks written by Tammy Strobel of Rowdy Kittens fame. (This is a $33 value.)
For those not in the know, Rowdy Kittens' tagline of "Social change through simple living" is not just a catchphrase, but also a way of life for Tammy and her husband Logan. 100 possessions? No problem for these simple living enthusiasts, whose small Portland, Oregon apartment holds the essentials and not much else.
Today's giveaway is for:
"Which is full of tips, tools, and strategies to help you create personal freedom through a very small business. Smalltopia is broken up into three sections: Philosophy, Business Essentials, and Case Studies. The ebook tells my personal story of escaping the rat race and the lessons I learned along the way."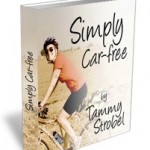 Simply Car Free: How to Pedal Toward Financial Freedom and a Healthier Life
"Five years ago, we lived the "normal middle class" suburban lifestyle. We were newlyweds with flashy rings, living in a two-bedroom apartment, driving two cars, commuting long distances to work and living well beyond our means. The idea of living without a car didn't seem possible.

By changing our perspective and planning small steps, we learned lessons that simplified our lives and got us out of debt. Going car-free was part of our downsizing process and was one of our first big goals toward living intentionally."
Minimalist Health: How to Focus on the Essentials
"Your life is your message, so take care of yourself. You only get one body and one mind. Cultivate both, be happy and do good."
To enter to win these eBooks, write a little something in the comments section about any change you are making, (or want to make) to live your life more simply. I can randomly choose a winner on Wednesday, October 6th at midnight PST. This contest is open to all, (not just U.S. residents) as I will e-mail the downloadable books to the lucky winner. (Woo-hoo, no post office trip for me!) Please enter only once.
Thank you very much to Ms. Strobel for providing these eBooks for one lucky Non-Consumer Advocate reader. Good luck!
Katy Wolk-Stanley
"Use it up, wear it out, make it do or do without"