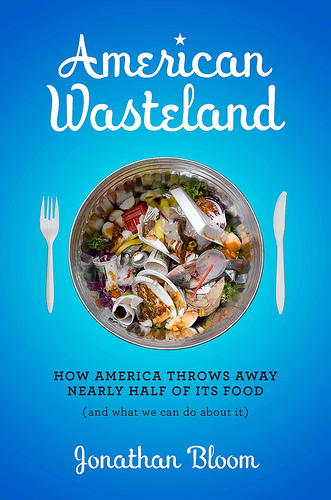 Another week has snuck up upon us, which means it's time for another Non-Consumer Advocate Monday Giveaway. This week's giveaway is for a hardback copy of Jonathan Bloom's American Wasteland: How America Throws Away Nearly Half of its Food (And What We Can Do About It). Yes, the Jonathan Bloom from wastedfood.com. 😉
Although I just started this book, I can tell it's going to be great. And no, not just because yours truly is featured on pages 84, 85, 86 and 205. (Although really, including me in your book is a terrific way to get featured on The Non-Consumer Advocate.) This book's in-depth look at the issues related to food waste from the farm to the kitchen is fascinating. And although I am the blogger behind the "Waste No Food Challenge," I constantly feel like I'm the modern day version of Sisyphus, rolling that boulder of moldy food up the mountain only to have careen back down at me.
Avoiding wastage in the home is near to impossible, but this book will open your eyes to the bigger issues at stake when it comes to the subject of food waste.
To enter to win a hardback copy of American Wasteland, just write something in the comments section about your relationship to food waste. I will randomly choose a winner at midnight on Wednesday, November 3rd. Please enter only once, U.S. residents only.
Good luck!
Katy Wolk-Stanley
"Use it up, wear it out, make it do or do without"