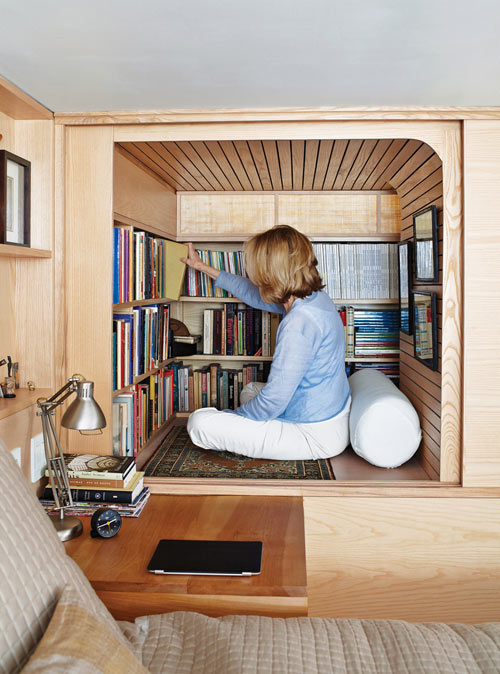 It's time again again for Non-Consumer Mish-Mash, where I write a little bit about this and a little bit about that.
Free Photo Collage at Walgreens
I'm always happy when I find a national deal to share with my readers, and here's one of my favorites. Walgreen's does a free 8X10 Collage Print (Normally around $4.50) a couple times per year, and I almost always take advantage of it as it makes an awesome grandparent or father's day gift. Not to mention that it's kind of fun to put together and to choose the photos.
I already made mine and placed my order, I'm just waiting for the e-mail from Walgreen's saying it's ready to pick up.
Here's the link, and the code is COLLAGE4FREE.
Coolest Tiny Apartment Ever!
You might be tired of me sharing all the clever and inspirational small living homes across the world, but today's one takes the cake. Why? Two words:
Book. Nook.
This New York 240 square foot apartment is featured on Design Milk, and is everything my heart desires. Because apparently all I desire is a tiny space filled with books.
Seriously, that's all I need.
Click HERE to see all the fantastic photos.
Money Seen in Units of Tacos
My friend, Max Wong has written a great piece for Wise Bread where she tells the story of bringing a huge amount of clothing to a consignment store, only to be rewarded with $2.18 in cash. At first she's annoyed with the small amount of reward for her efforts, but the cashier's remark that "Well, that'll buy you a taco" changed her mindset.
She writes:
"I think the reason why I was so taken by the Taco as monetary unit is because it legitimized the value of the $2.18 I had received in exchange for a shirt. I was annoyed that I'd driven down to the consignment store only to return home $2.18 richer. However, because I love tacos, the idea that I could get a quickie snack in exchange for a shirt I no longer liked took the sting from the original cash transaction."
It's a great article, and nicely thought provoking.
Click HERE to read the article.
Have a great Sunday, the sun has come out here in Portland, and since half my family is in Seattle I have nothing I actually need to do. I think I'll have a second cup of tea and ponder all the possibilities.
Katy Wolk-Stanley