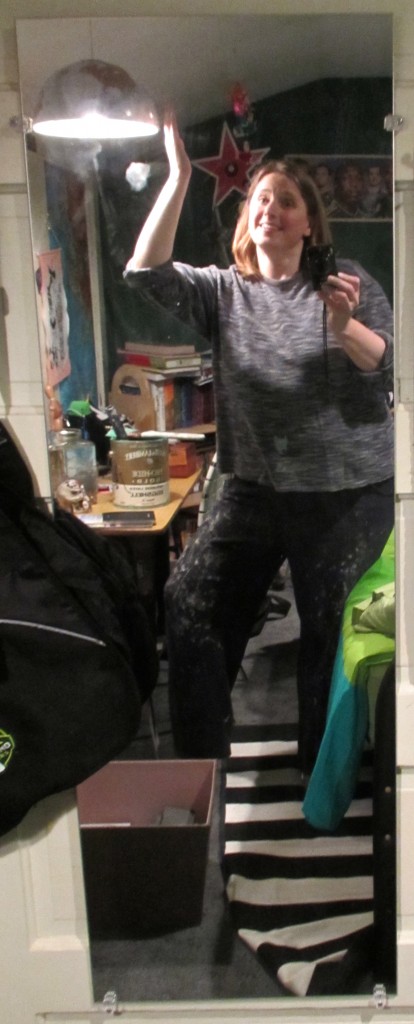 Like money savings ideas? How about interviews with me? Well then, you're in luck, as the current Redbook Magazine features an interview with me about the buy-nothing-new Compact and how it saves me money. Titled The Money Habit That Saves You $1,378 Every Year, the article is written by the wonderful Sandy Fernández. (Who is now my official biographer, as I think this was third interview I've done with her!) the article profiles three different women who have taken on unique challenges that led to big savings.
I try and get hard copies of all my interviews, so I stopped at Walgreen's on my way back from dropping off my son and a friend at the arcade. This was in the midst of painting stripes on my son's wall, so I was dressed in my special painting outfit which is smeared with the paint from a thousand different projects. It's also weirdly baggy and stretched out. (Take a good long at the above image for reference. Sexy, no?)
So the clerk looked at the magazine and said "Redbook, huh?"
To which I replied "Yes, I'm in the magazine."
And she proceeded to ask in all honesty "For fashion?"
For fashion?! For fashion!
On my very best day, I could be described as an "okay dresser," but no one has ever used the words "fashionable" and "Katy Wolk-Stanley" in the same sentence!
I about died laughing. Right there in the Walgreen's in front of strangers and all the Kardashian-krusted tabloid magazines. I took a step backwards so the clerk could properly assess my fashionability and understand why I was about wetting my pants with mirth.
Me? Featured in a fashion magazine!
I drove home and immediately relayed the story to my seventeen-year-old son, to which he replied in a deadpan voice:
"Mom, I've seen homeless people dressed better than you."
Someone should interview that kid some day. His refreshing frankness is just what this country needs.
Click HERE to read my Redbook interview, which is about saving money, not fashion.
Katy Wolk-Stanley