Today is DAY THREE of the SNAP/Food Stamp Challenge, and all is well. Here's how much I've spent from my $112 budget so far:
Day One — $0
Day Two — $15.66
Day Three — $6.77
Total — $22.43
What did I buy? I was low on a few different spices, so I walked my refillable jars to Fred Meyer and bought dill, curry powder and nutmeg. I also was out of cream cheese to go with the bagels that I bought on day two.
Bulk spices are almost always the cheapest option, not to mention that they're much, much fresher (and more flavorful) than buying the pre-filled jars. And for infrequently used spices, you can buy the exact amount you need rather than buying an entire container, which then sits unused year after year.
Dill — $1.07
Nutmeg — $2.38
Curry — $1.58
For those of you who are trying to minimize food packaging waste, it's a win-win situation! See that curry container? It's a baby food jar, so you know I've been refilling it for a looong time!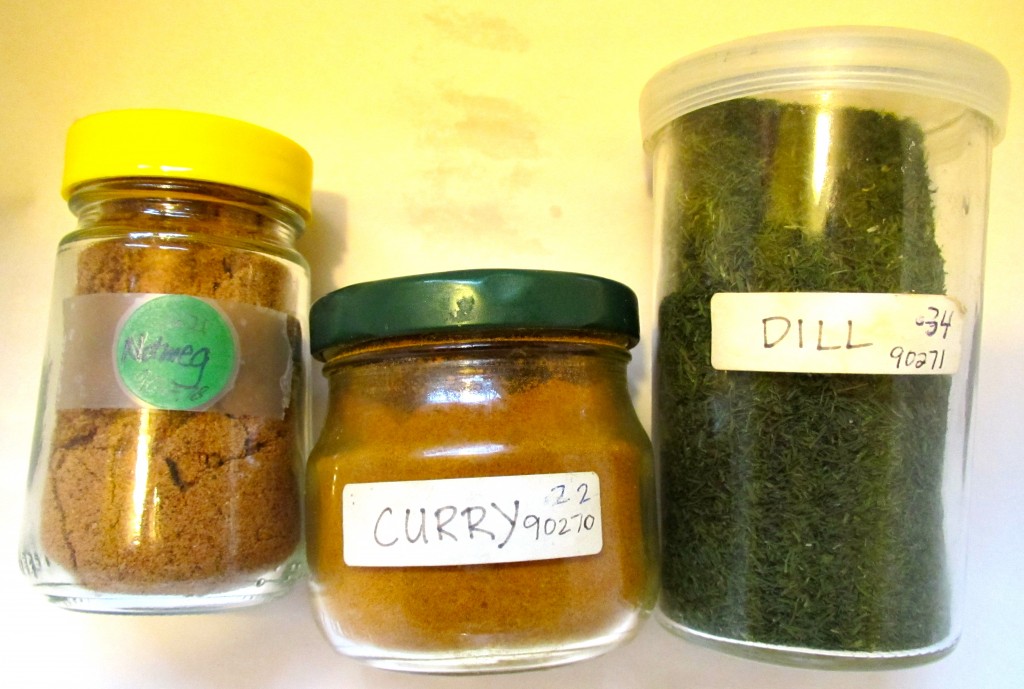 I spent a fair amount of time cooking yesterday, and was able to prepare two-and-a-half pans of restuffed potatoes, one of which I slipped into our freezer for a later night. (Aren't the colors pretty?) I also made a batch of red lentil soup and boiled up some chicken stock using the leftover chicken and bones from yesterday.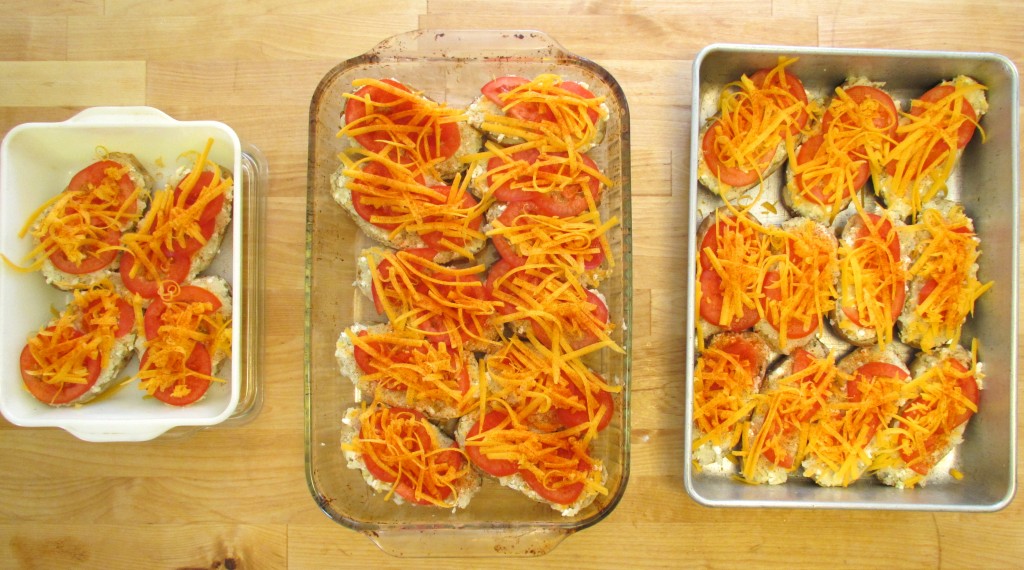 I let the availability of 10¢/pound potatoes guide this meal choice. Add to that the sale cheddar and cottage cheese, and this meal was crazy cheap! I was going to serve the potatoes with red lentil soup, but since I was out of curry powder, we ate these as-is.
Tonight's dinner will be the kale pesto with a small amount of chicken from the freezer. The red lentil soup, (which is already prepared) will accompany the meal. I have a stash of clearance bags of 80¢ pasta from last week, so I'm all set on that end.
I am running low on olive oil, frozen chicken breasts and chicken stock, all of which I buy from Costco. I will be working to clean one of my mother's rental cottages today, so I'll probably stop into Costco afterwards for these items. (Her neighborhood is about halfway to Costco, so this minimizes driving.) I'll make sure to drive whichever one of our cars is lowest on gasoline, as their prices are significantly cheaper than anywhere else.
By running this SNAP/Food Stamp Challenge, I hope I am shining a light on America's food security issues, and also helping readers to glean ideas for bringing their own food costs down. I know I am in a privileged position to work part time, live within walking distance to both Fred Meyer and New Season's, and be in possession of a well equipped and functioning kitchen. But I have made countless numbers of financial sacrifices throughout the years to make this all happen. I own very few clothes, rarely eat out, always bring leftovers to work, have zero expensive hobbies, repair or mend instead of replace and find contentment with less than perfect possessions. (I know I would love and utilize an iPhone, but for now, I make do with my non-smart phone.)
Not all of these choices have been enjoyable, but they all support my big picture goals. (Being present for my kids, having time for writing, carving out time to be alone and let my thoughts simmer, and not become a stressed out mess from overwork.)
Having the tools for frugality allows for life choices that would otherwise not be a possibility.
And for that? I will eat potatoes, lentils, sale chicken and oatmeal.
Click HERE to read Day One.
Click HERE to read Day Two.
Katy Wolk-Stanley
"Use it up, wear it out, make it do or do without."
Click HERE to follow The Non-Consumer Advocate on Twitter.
Click HERE to join The Non-Consumer Advocate Facebook group.
Click HERE to follow The Non-Consumer Advocate on Pinterest.