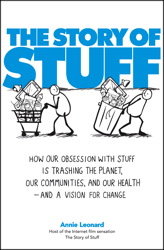 Annie Leonard, creator of the "internet film sensation" The Story of Stuff has just come out with a accompanying book, which is titled, The Story of Stuff: How our Obsession With Stuff is Trashing the Planet, Our Communities, and our Health — And a Vision for Change.
Usually I won't do a book giveaway unless it's a book I've actually read. However, the generous folks over at Free Press have sent me two copies of this book (one for review, one for giveaway) and I'm going to break my own rule and offer it up before I even crack the spine of my personal copy. I love, love, love Leonard's video, and I have trust in this book.
To enter to win your own hardback copy of The Story of Stuff, just write a little something about your own relationship with "stuff "in the comments section below. I will randomly pick a winner on Friday, March 19th at midnight PST. Only one entry per person, U.S. residents only.
Leonard is coming to Portland next week to do a reading at locally owned Powell's City of Books on March 22nd at 7:30 P.M., which I will be attending.
Click here to read Beth Terry of Fake Plastic Fish's recent interview with Annie Leonard.
Good luck! Remember — you can't win if you don't enter.
Katy Wolk-Stanley
"Use it up, wear it out, make it do or do without."