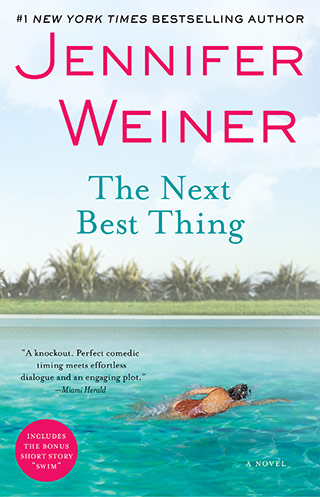 I know that I logically have no more free time during summer months, and realistically I probably have less time to read as the kids tend to be underfoot. But that doesn't mean that I don't consider June, July and August to be the perfect months for cracking open a book and shutting out all distraction.
I'm in the middle of reading Jennifer Weiner's The Next Big Thing right now, which I plucked from the library's Lucky Day shelf, as Weiner's novels never fail me. I have three weeks to finish the book, (although I'm zipping right through it, as it is true perfection!) And when I finish this book, I have Overdressed: The Shockingly High Price of Cheap Fashion waiting for me at the library.
Because I like to always be reading a book, and I like to have a fresh book at the ready as well.
I'm greedy that way.
And if I'm laying it all my cards on the table at once, this is what I like prefer demand:
A current novel.
A new novel on the sidelines.
A non-fiction book.
A gripping audiobook.
The quatrafecta! (Is that a word? If not, I decree it so!)
I know I am not alone in my reading peculiarities. Just yesterday a Neonatologist at work joined into a conversation about how much I hate eBooks, (I need to physically leaf through a book) and started waxing poetically about the smell of paper books. And this was from a man who normally cannot be paid to say "boo" to me, even though I once took care of his wife in labor!
People love their books!
I love asking friends for recommendations, even though I often forget who by the time the books come in at the library. So here I am asking of you:
What books do you recommend? These books can be on any subject, big or small, old or new. They just need to be something you have read and loved. Please share your suggestions in the comments section below.
Katy Wolk-Stanley