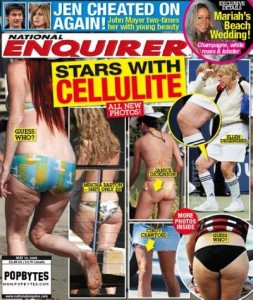 When I started The
Non-Consumer Advocate
in 2008, I only had a fuzzy view of what my goals would be. Sure, I wanted to write about frugality and
The Compact,
but the long term vision was murky at best.
But all of of that has changed, because I have now met the goal of my wildest fantasies. Because I can now refer to myself as:
"Katy Wolk-Stanley, of The Non-Consumer Advocate, as seen in The National Enquirer!"
No. I have not gestated any offspring for John Edwards, nor did I go dumpster diving with the
Octomom.
Sadly, all I did was issue
The No Heat Challenge,
(which actually ended on November 1st.)
So I guess it's only downhill from here, because I have reached the pinnacle of awesome. National Enquirer style.
Click HERE to read my interview in The National Enquirer.
Katy Wolk-Stanley
"Use it up, wear it out, make it do or do without."
P.S. Sorry about the hinky formatting. I am once again reminded that I'm a great frugalista, an okay writer and one heck of a crappy computer person.