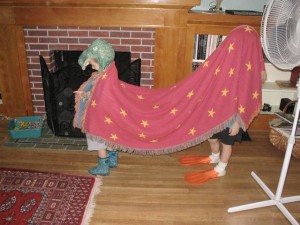 I went through a phase a few years back when I sold an enormous amount of extraneous household stuff on Craigslist. From furniture to outgrown toys, it all got listed. Nothing was particularly valuable, but it certainly added up. I would estimate that I made a thousand dollars or so by the time I finished. Not bad for a small investment of time. And the combination of getting rid of stuff with making money is hard not to love.
Fast forward a few years, and the clutter has reinvaded our home. (Okay, it never really went away.) My husband and I have been starting to list things on Craigslist again. A horrific local crime has taken some of the innocent joy away from online classifieds, so I'm a little more defensive about how I operate. I only arrange for buyers to come when my husband is home, and I absolutely trust my instincts if something seems hinky.
I currently have our old washing machine and a Longaberger basket listed, and I've been eyeing my son's outgrown snowboarding gear. And I've got a whole chest filled with large pieces of polar fleece fabric that I know some crafty fanatic would be more than happy to take over on.
The one thing I've held onto for sentimental reason, (as opposed to simple intertia) is a great big stash of boy dress-ups. My sons spent immeasurable hours pulling out animal costumes, super hero uniforms and the bits and pieces that would transform their days from dull to adventuresome.
Sadly, they're 11 and 14-years-old now, and their dress-up days are behind them. And the bag that holds all this stuff keeps getting scattered around our storage room. I think I'm ready sort through and launder this wonderful collection and get it listed on Craigslist for the next wee generation to enjoy.
Although I'm sure I will hold onto a few key pieces. After all, I will be grandmother some day.
And all this money from craigslist will be going towards our savings plan.
Have you discovered the joy of selling unwanted items? Please share your storeies in the comments section below.
Katy Wolk-Stanley
"Use it up, wear it out, make it do or do without."