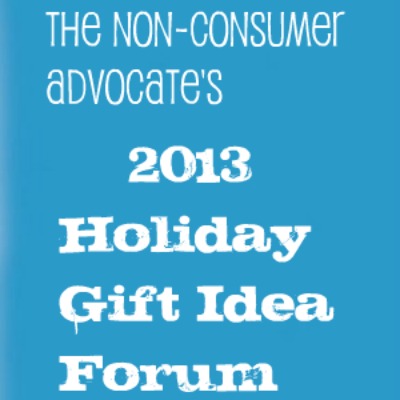 It's easy to be careful when it comes to spending on ourselves, but that austerity can be difficult to maintain when the month of December rolls around. I've certainly been guilty of keeping my gift spending under control until December 23rd, when I suddenly panic and plug in the gift holes without a single thought for the financial consequences.
Please tell me I'm not the only one.
I officially only buy used, I do buy food gifts, experiential gifts and the occasional responsibly manufactured doo-dad. And that can add up.
I am only just now starting to think about this year's holiday shopping. Although I do shop from thrift shops year round, birthdays sneak up and deplete my precious gift stash.
Birthdays are awful that way.
My best piece of advice to keep your holiday gifting expenses under control is to decrease the number of people with whom you exchange gifts. This conversation may be uncomfortable, but you may find that the idea to stop exchanging gifts is a welcome one. No one wants their house cluttered with useless crap, and everyone is keeping an eye on their spending.
Whether it's used gifts, homemade gifts, experiential gifts or simply no gifts, I want to hear your ideas!
What are you giving this year, and what are you struggling with? What gifts have been hits, and conversely what gifts were duds?
Please share your ideas in the comments section below. Let's get the ideas flowing, because I truly believe that you can have a Non-Consumer holiday season that's still generous and meaningful.
Katy Wolk-Stanley
"Use it up, wear it out, make it do or do without."