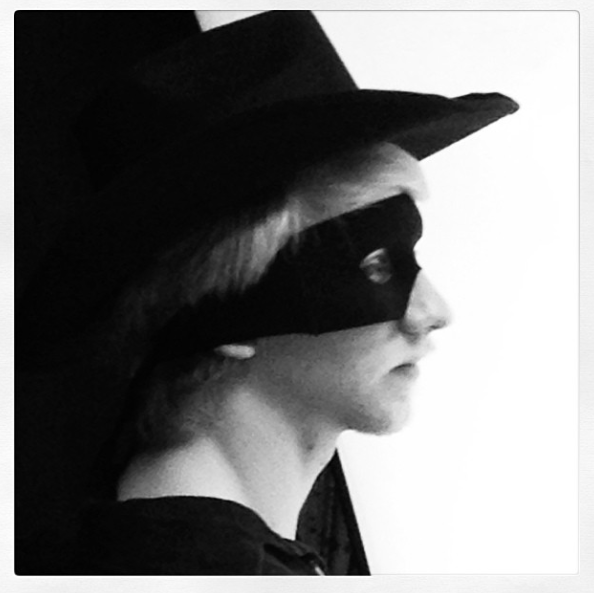 Today I am . . .
Making applesauce, using the $15 box of Hood River apples from my husband, as well as a box of spotty, bruised, but generally okay apples from my sister.
Thinking about the concept of perceived value after reading about how some New Yorkers set up a booth and sold out of "Certified Inauthentic" Banksy art. This was after the artist Banksy made headlines by setting up his own booth to sell anonymous $60 paintings, when his paintings normally sell for $10,000. I buy a gift at Goodwill for $3, and feel worried I will be perceived as cheap. When in actuality, the gift would have sold for $50 in an antique store. The price of an item is random and haphazard, which is difficult to reconcile.
Missing the recent sunshine, and wondering at what point I should give up and take my laundry off the clothesline.
Laughing with my 18-year-old son, who went in for his senior portraits dressed as Zorro. We normally would not go the portrait studio route, but it's required in order to get a picture in the yearbook. I was dreading this task, but the photographer loved the concept and had a lot of fun with the task. So far we haven't ordered any expensive prints, but I was allowed to snap a couple of shots with my iPhone.
Thinking about how the person my son was when he was four years old is pretty much the exact same person he is at eighteen. Loving dress ups, insistent on full attention, enamored with Pokémon and a stickler for truth and fairness.
Proud of last night's dinner, which consisted of Grand Central Bakery's olive bread, (free from their Tweets for Treats program) and soup. The soup was made by pureeing the leftover carrots, potatoes and onions from Tuesday night's pot roast. I then added some extra broth and whole milk and created something wonderful out of nothing.
Pleased to have brought my own glass jar to buy bulk cinnamon, and annoyed that I forgot to buy lemon juice.
Now your turn. What are you doing today?
Katy Wolk-Stanley