The following blog post first appeared over at ClarkHoward.com.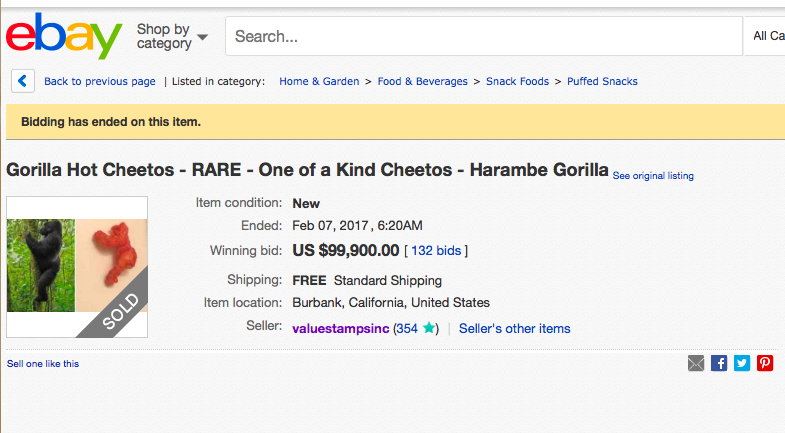 You may be aware that a gorilla-shaped Flaming Hot Cheeto just sold on eBay for $99,900. Yes, you read that right, $100 shy of a hundred-thousand dollars for a single snack nugget! Why did this particular Cheeto sell for such an exorbitant amount? Because it was described as being shaped like "Harambe gorilla." (Although really I'd say that's a bit of a stretch, which makes it the Rorschach test of salty snacks.)
I reached out to eBay seller Valuestampsinc to get more information on their listing, but most importantly to ask the question on all of our minds:
"Did that highest bidder actually pay?"
Sadly, the answer was no, or at least not yet. "They haven't paid and most likely they won't, unfortunately." Adding that, "I think people just fell into the craze of things and had no intentions of buying it." Such a disappointment for those of us who'd added Flaming Hot Cheetos onto our grocery lists.
Of course, it's not the first time that a seemingly worthless item has been bid up to an exorbitant amount on eBay. Although many of these listings have been for charitable causes, others have simply caught the public attention and escalated the price beyond anyone's expectations.
You may already be familiar with these infamous eBay listings:
Pharrell's signature hat:
Singer/songwriter Pharrell famously listed his goofy hat on eBay in 2014 to support the charity From One Hand to Another. The hat ended up selling for a staggering $44,100 to the fast food chain Arby's, whose logo is humorously similar. This prompted Arby's to tweet to Pharrell that "We're HAPPY to support a great cause and get our hat back."
Half a grilled cheese sandwich:
Although this sale goes back to 2004, it's an absolute must on any list of crazy eBay sales. Because when you accidentally grill the face of The Virgin Mary onto the surface of your lunch, and later sell it for $28,000 on eBay, it becomes the stuff of legends.
A snippet of Justin Bieber's hair:
Ellen Degeneres turned straw into gold after being gifted with a thatch of Justin Bieber's hair clippings back in 2011. (Peak Bieber-fever.) Listing it on eBay in support of The Gentle Barn Foundation, the hair eventually sold for $40,668, which included a trip to the Ellen show to meet the young Bieber.
An M&M wrapper:
Sold way back in 2004, this eBay listing went for an insane $2,815.43 to the Golden Palace Casino, who has curated a Museum of Oddities, (as well as some cheap publicity) by overbidding on ridiculous and infamous items. And yes, it was simply an ordinary candy wrapper, nothing more.
Whale vomit: 
Although the jury is still out on whether ambergris comes from the front or end half of a sperm whale, it's still going to be the luckiest day of your life if you come across a lump of it. Described as a waxy ball that smells "like a cross between squid and farmyard manure," this rare item is used in high end perfume. So when a British couple came across a lump of it while walking their dog last year, they gleefully wrapped it in a scarf and brought it home. Expected to sell for $70,000, it was certainly the find of a lifetime. No news on the fate of the scarf though.
Although you may never find your own chunk of ambergris or have enough elusive celebrity caché to bring attention to a wacky eBay listing, you can still strike gold from otherwise overlooked items. Although far from $100,000 Cheeto, members of an eBay seller's group had these stories to share:
Samantha:
"A Sadler Tea Set of tea pot, sugar basin and creamer. 1940's/50's era worth about $250 normally . . . went ballistic . . . bidders fighting in the last few mins .  . . sold for $1920.00. It was amazing timing as it was desperately needed at the time."
Angela:
"$2191.79 for a vintage Gillette Fat Toggle Razor."
Jen:
"I started selling on eBay in 2005 when Macy's announced they had bought Marshall Field's. I could visit my local Marshall Field's store and buy literally anything with their logo and sell it on EBay for 2-3 times the amount I paid. The highlight was after Christmas that year when I found an unmarked large white box on a clearance table which turned out to be a huge snow globe shaped like the downtown Chicago store; I paid $15 and sold it on eBay for $520."
Katy:
This last story is mine from back in 2004, when eBay was hot, hot, hot. I'd been to Goodwill and discovered a jumble of vintage Sasha dolls priced at $3-$5 apiece. (I recognized them from having owned one as a child.) I scooped them up and quickly listed them on eBay. I ended up making over $2000 from the dolls, including one that sold for $1000, as she was apparently a rare specimen. I've since found two others, although sadly the pre-recession days of wanton spending are behind us, so they only sell for $100 or so.
New to eBay and need a tutorial on how to get started? Check out this Clark Howard piece on how to use eBay's Completed Listings section to research how much things actually sell for. You'll likely be surprised, as what you think is valuable may not be so, but what you consider to be worthless may just be your Harambe-shaped Cheeto or maybe even your own priceless chunk of whale vomit.
Katy Wolk-Stanley