This post first appeared over at ClarkHoward.com.
I'm a huge fan of Trader Joe's. I'm addicted to their hummus, and rely on many of their house brand products such as their 100% recycled content toilet paper, their eco-friendly dishwasher detergent and I always keep a bag of their Mandarin orange chicken in the freezer to stave off expensive takeout on busy nights. However, I feel like I need to don blinders whenever I enter the store, as Trader Joe's is stocked to the gills with impulse purchases that are sure to derail my carefully crafted budget.
I stopped by my local Trader Joe's last week and filled two grocery bags for a mere $20.25. I was amazed at the low price and joked to the clerk that it must be a record. His reply was that "it was because you didn't buy any booze, nuts or vitamins." This got me thinking, what are the Trader Joe's products that cause a bag of groceries to skyrocket from $15 to $70?
I'm the first to defend that Trader Joe's has some great deals. Their dried pasta is always 99¢, their canned marinara sauce is $1.99, and you can't beat their Three Buck Chuck. However, Trader Joe's is a skilled seductress when it comes to tempting you with their tasty nibbles. Check out following list, and maybe you'll be able to leave the store while still making your student loan payments.
Wine:
The Trader Joe's/Charles Shaw brand wine, (A.K.A. "Three Buck Chuck") is a terrific bargain, but only if you're not using the low price as a rationalization to buy more wine than you'd normally stock up on. One or two bottles are a great deal, buy it by the case and you've suddenly spent a fair amount of money.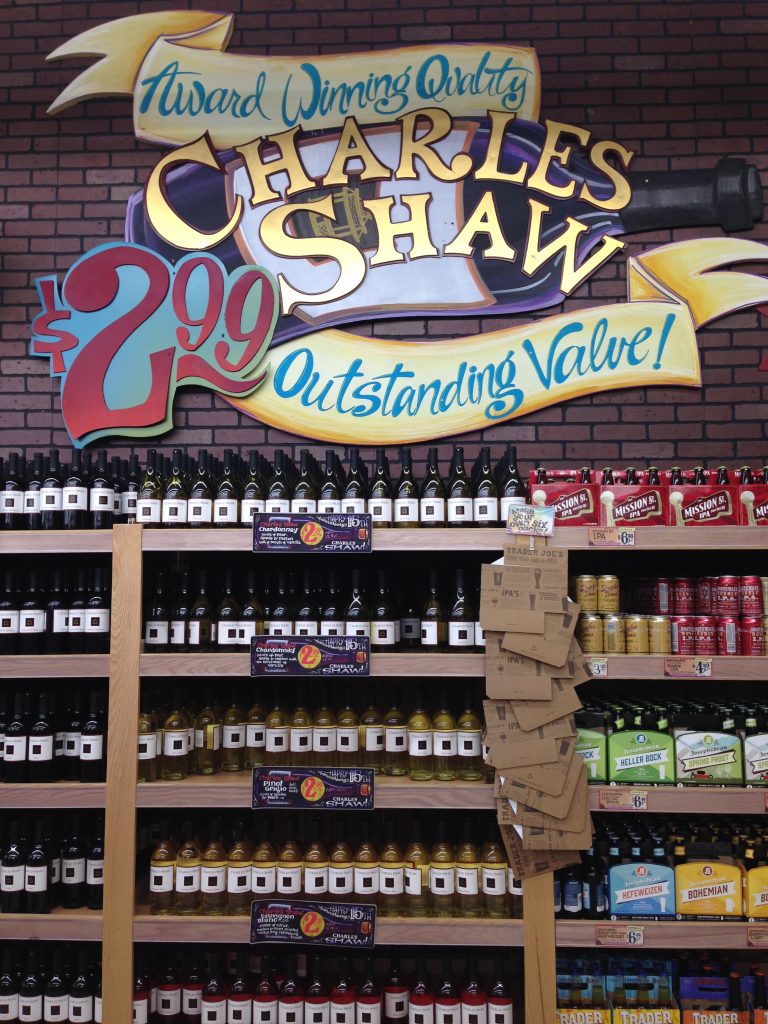 Vitamins and supplements:
Vitamins can quickly add to your grocery bill, especially when you consider that current research on daily multi-vitamins shows that there's "no proof of benefit,"  as well as "evidence of possible harm from high doses of certain vitamin supplements."  Eat your greens and leave the multi-vitamins on the shelf.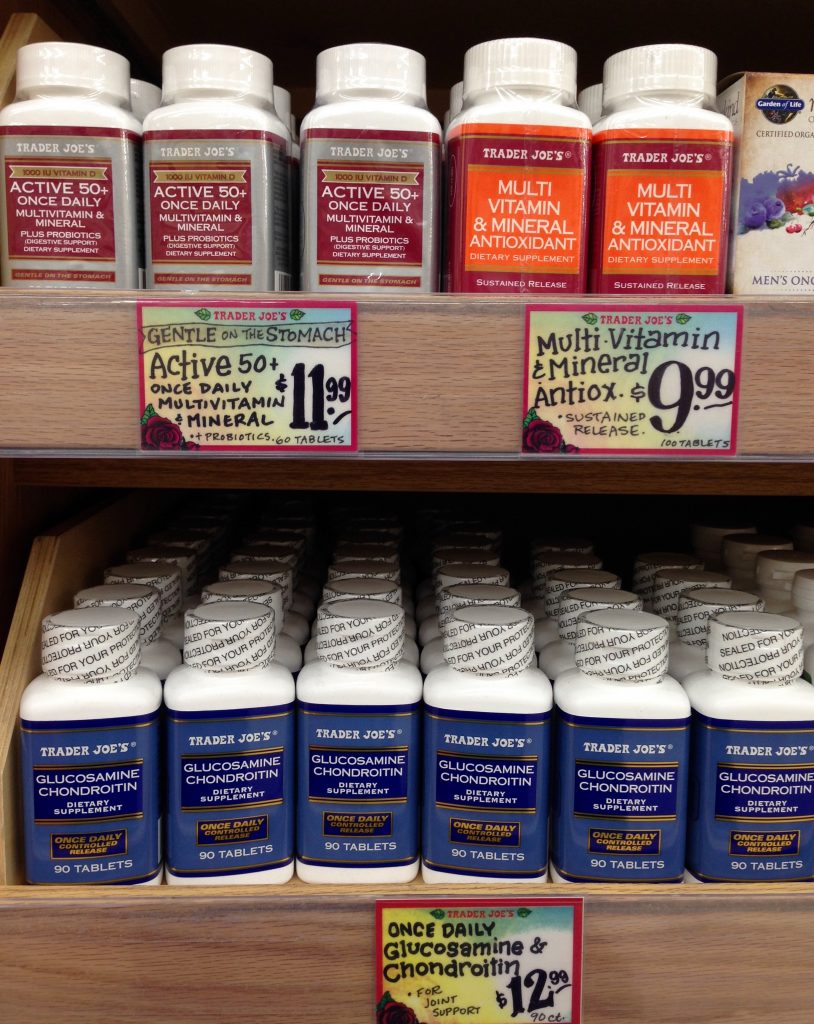 Nuts:
Although the price per pound on the wide variety of Trader Joe's nuts is a comparatively good value, mindless tossing of bags into your cute red cart is sure to bring your total to a surprisingly high amount.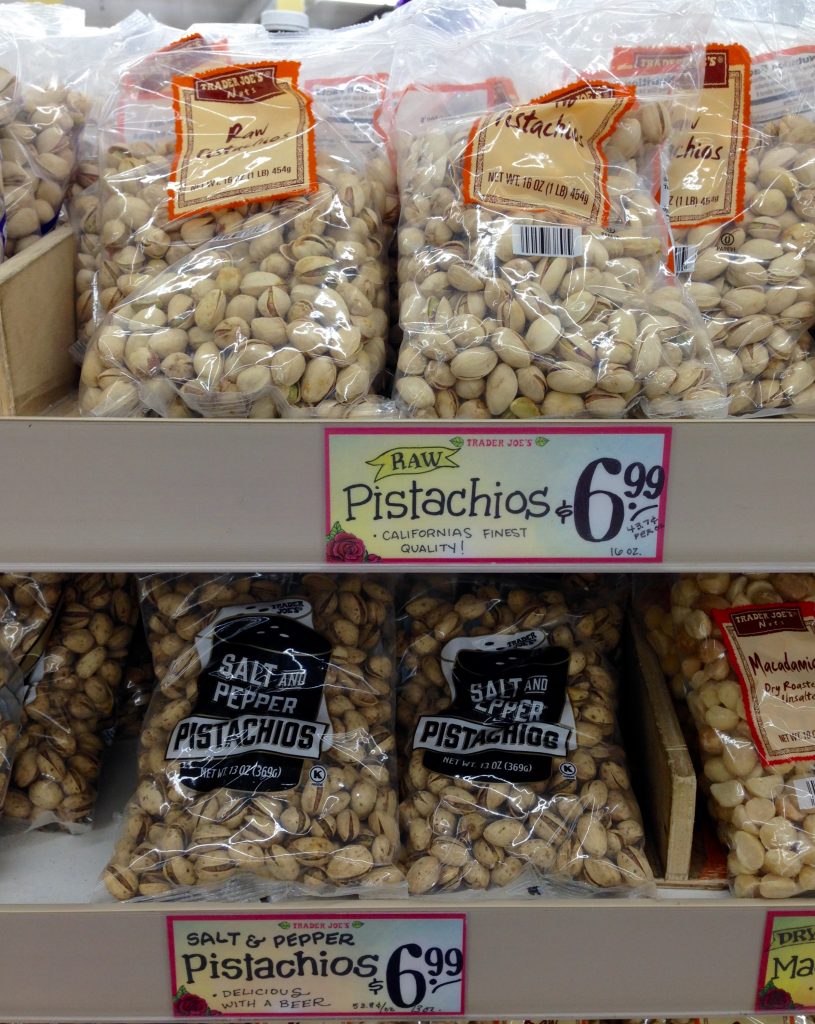 Cookies, cookies, cookies:
Those clear plastic tubs are almost more famous than their delicious contents. Whether you're buying the popular $1.99 "Cat Cookies" or $4.99 "Chocolatey Coated Chocolate Chip Dunkers," just make sure these impulse purchases are actually on your shopping list. Add in that there's no "pause point" in the packaging, and it might be a better idea to take a deep breath and move along.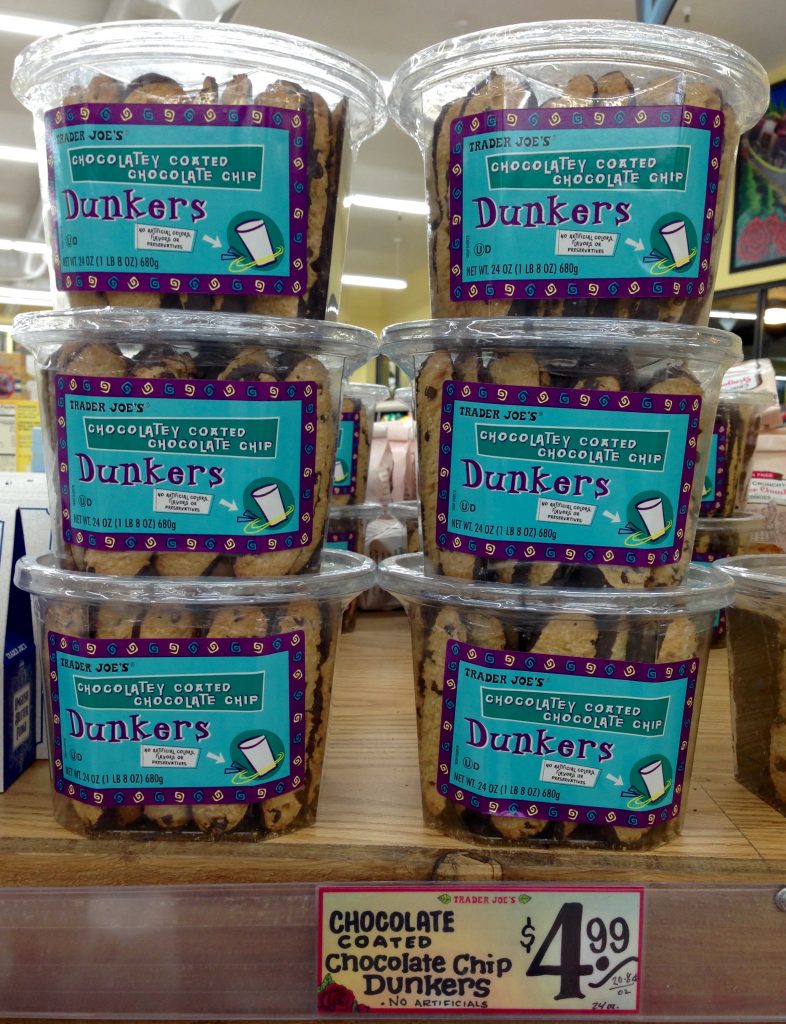 Nut butters:
I ran a non-scientific poll of my co-workers asking which Trader Joe's items have a tendency to derail their food budgets, and "nut butters" was a surprising answer. Choose both the crunchy and creamy almond butter, and you just added $14 to your total.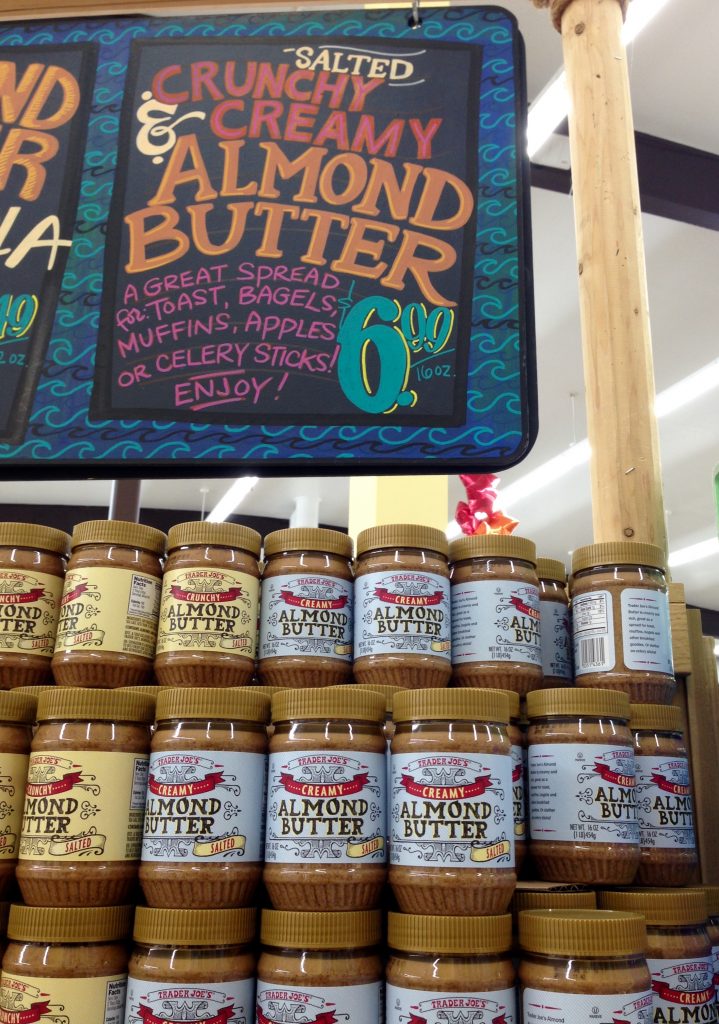 I stood in front of the energy bar section for a few minutes and quickly observed that shoppers grab these items by the handful. Considering that many energy bars have more sugar than a Snickers bar, indulging in these items are sure to weigh down more than just your grocery bill.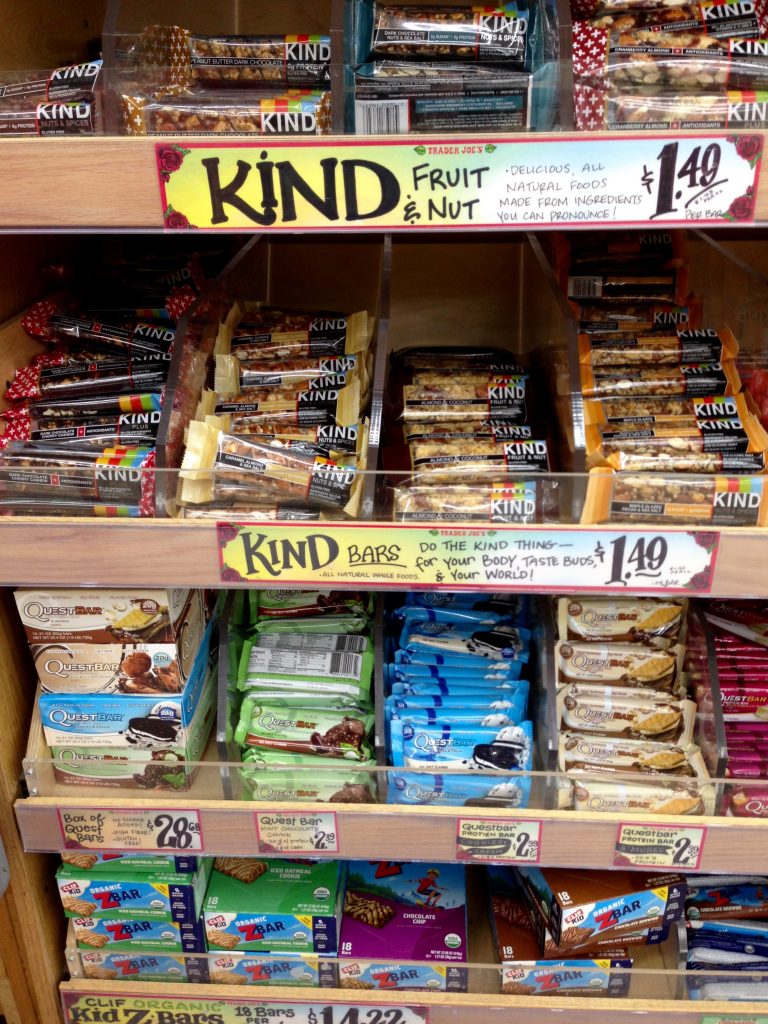 Flowers:
Walk into any Trader Joe's and you'll be greeted by a cheerful wall of mixed flowers. And since even the most expensive bouquets are just $9.99, it may seem like a benign choice to grab a bouquet. But it's exactly this type of impulse purchase that makes Trader Joe's a dangerous place for your credit union balance.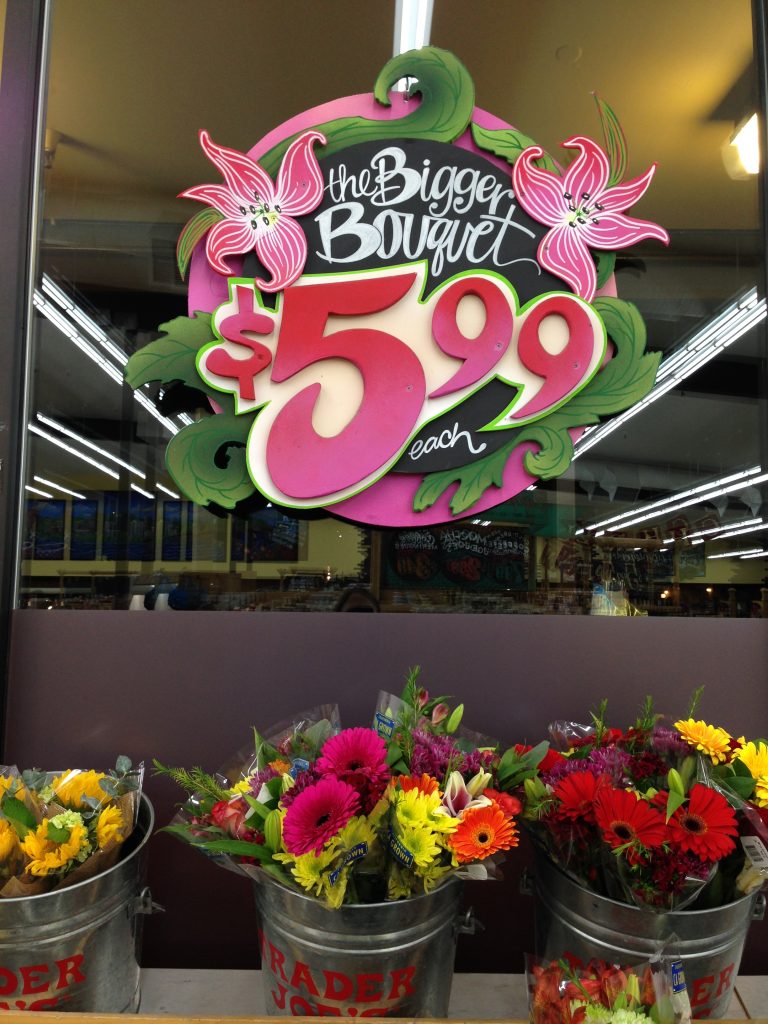 Candy:
A traditional grocery store will always feature shelves of tempting candy to derail your best efforts at self control. Of course, those candy bars will only set you back around 75¢. However, Trader Joe's isn't selling Snickers bars, which means that you'll spend $2 for that end of shopping reward for yourself the kids.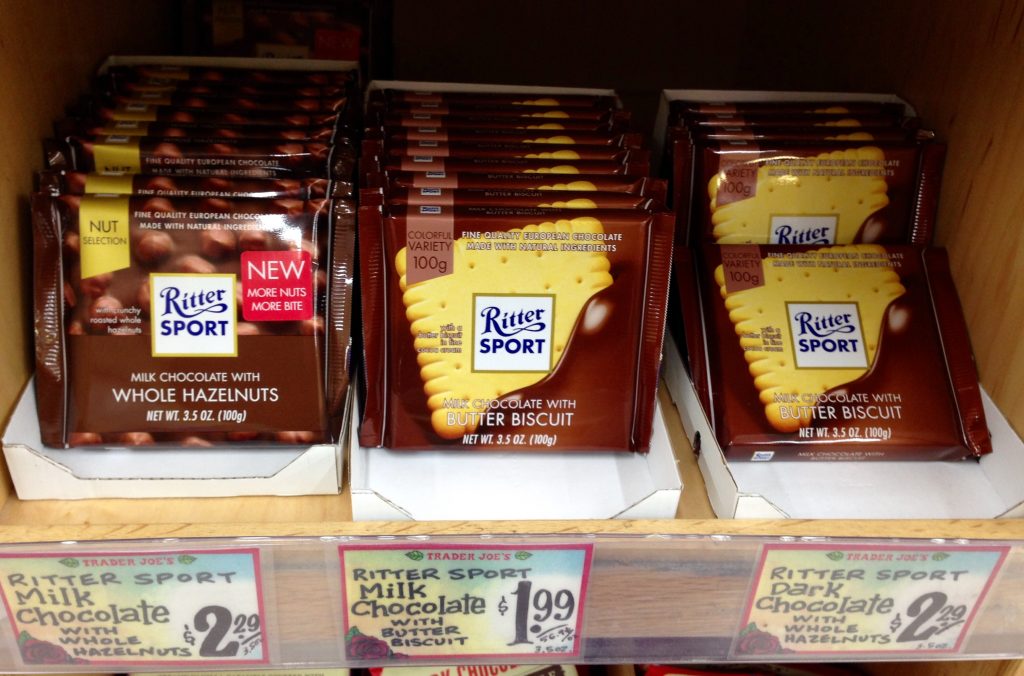 There's a reason why Trader Joe's are so popular, as their stores offer great deals on unique and quality items. However, remove all the impulse items from their stores, and you'd quickly develop an powerful echo. I'm not suggesting that you never treat yourself to a bottle of wine, a bouquet of flowers or an after dinner treat. Just make sure you're doing so with thoughtfulness and an awareness of how $2 here and $7 here can add up to a $70 bag of groceries.
Here's how much extra you would have spent had you bought all the impulse items from this article:
1 bottle of wine — $2.99
1 bottle of multi-vitamins — $11.99
1 pound of pistachios — $6.99
1 tub of cookies — $4.99
1 jar of almond butter — $6.99
5 energy bars — $7.45
1 medium flower bouquet — $5.99
1 Ritter Sport chocolate bar — $1.99
Total — $52.37
And you'd still have nothing for dinner.