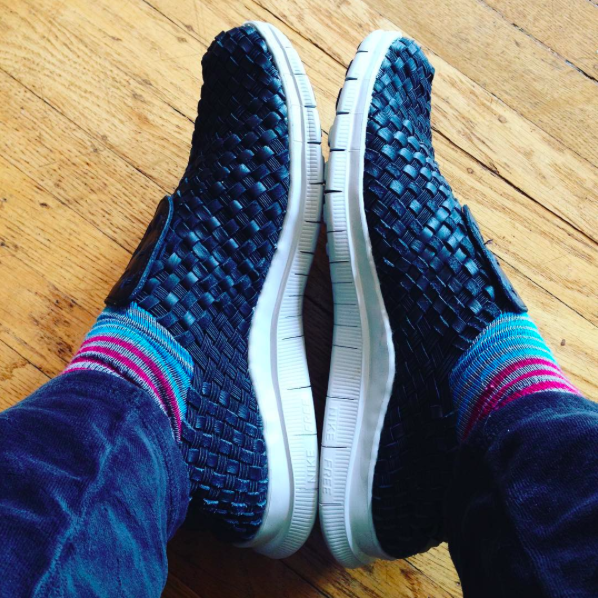 I drove my older son waaaay across town to hang out with a friend, partially motivated by this friend's house being a block from one of my favorite Goodwills. (Don't make me choose my actual favorite one, as they're all precious to me.) I've been keeping an eye out for a pair of slip-on shoes that are somewhere in between my Uggs and my Birkenstocks. I scored a brand new pair of black Nike Air Wovens for only $25. They're not as colorful as the $160 ones that were just announced a few days ago, but I'm not really craving so much attention to my size-10 feet. I'm still working on a Goodwill gift card from Christmas, (thanks mom!) so these shoes were free to me. The Nike world headquarters are right outside Portland, so there are always lots of great used sneakers to be found.
My son is doing well after his wisdom teeth removal, and I've been plying him with multiple smoothly frugal treats. So far he's enjoyed homemade mashed potatoes with gravy, oatmeal, homemade red lentil soup, homemade applesauce and a free Wendy's Jr. Frosty courtesy of the $1 key fob that I purchased a few months ago. Okay, let's be honest here. He's getting sick of his limited food options. I would be too.
I put together our April budget, which was thankfully not as uber-focused on the kids' college fund as the last few months have been. The next college tuition bills won't come due until October 1st, which gives us the breathing room to give some love and attention to other financial goals. We sent off $15,665.85 this week to Oregon's university system, as we just did in January and last October. Having more than three months to come up with this amount is a luxury. Should we have been putting money into 529 plans since the kids were born? Hell, yes! But we simply didn't have the financial wiggle room at the time. Although in retrospect, even a few hundred dollars here and there would have been smart.
I was sent a free RedBox code, which I'll use to rent a movie to watch with the kids tonight.
I didn't buy a Lear Jet or a vulgar gold-plated apartment in the sky.
Now your turn. What frugal things have you been up to?
Katy Wolk-Stanley