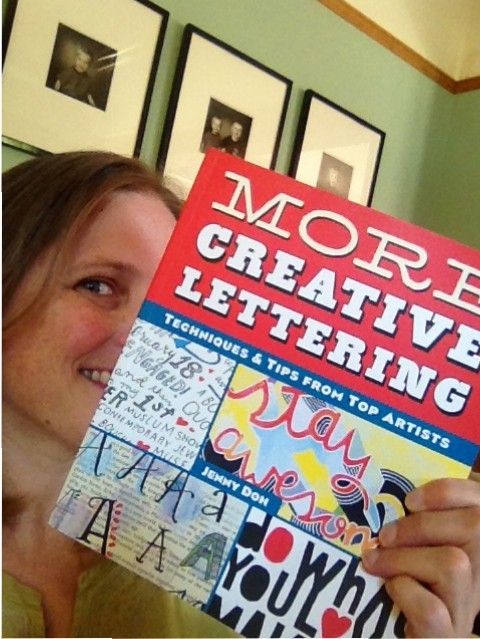 Update: This giveaway has ended. Congratulations to Lorraine!
I have a special treat for you today, which is an opportunity to win your very own copy of More Creative Lettering: Techniques & Tips From Top Artists from Lark Crafts.
I consider myself to be a creative person when it comes to figuring out alternate solutions to life's many problems, but my creativity does not follow me into the visual medium. I simply cannot draw, and no one in their right mind would ever ask me to letter anything. And what was decently okay handwriting a few years ago has devolved into chicken scratch, barely legible to me, let alone anyone else.
So when Lark reached out to me about reviewing this book and doing a blog giveaway, I didn't hesitate to say yes.
Yes, please! Especially since Lark books are always deliciously gorgeous. (Whoever is in charge of book design over there deserves a raise!)
Here is an example of my very best cursive, which has not changed since Mrs. Criqui's third grade classroom.
Luckily, this great book has many easy to follow examples of super cute handwriting that I'm excited to try out on my own. Yay!
To enter to win a copy of this book, please write your name in the comments section below. I will randomly choose one winner on Monday, August 3rd at 9 P.M. PST. U.S. and Canada residents only. One entry only.
Good luck!
Katy Wolk-Stanley
"Use it up, wear it out, make it do or do without."
Click HERE to follow The Non-Consumer Advocate on Twitter.
Click HERE to follow The Non-Consumer Advocate on Instagram.
Click HERE to join The Non-Consumer Advocate Facebook group.
Click HERE to follow The Non-Consumer Advocate on Pinterest.