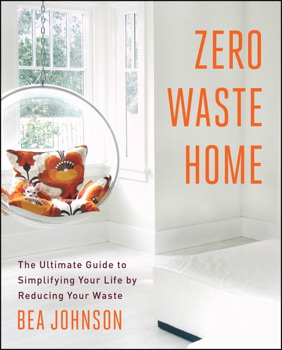 Today is Day Three of Zero Waste Week, and although the day was mostly devoted to laundry, (seriously, where does it all come from?!) there was a definite waste-free bent to the day:
Drank loose leaf tea throughout the day.
Everyone's lunches (work and school) were zero waste.
Dinner was back bean chili made from bulk purchased beans, which included leftover pinto beans, leftover sautéed onions and tortilla chip crumbs that I save in a jar to sprinkle on chili and the like.
I bought a half-pound of bulk sausage meat from New Season's, and had them package it in a compostable container.
I returned my glass milk jug and bought new milk. ($1.50 deposit on the bottle.)
I dropped off a half-dozen or so spent gift cards at my friend Lise's house. She teaches silkscreening classes, and they use the gift cards for spreading the ink.
I baked a batch of oatmeal cookies with the last of some homemade dough. I then proceeded to burn them all to a horrible, blackened stinky crisp. This was a problem, as they were an integral component to the kids' school lunches for today.
So I made a plan to bring my own container to Papa Murphy's Pizza and buy some bulk cookie dough. Sadly, they only had it pre-packaged, so I left empty handed. I was halfway to the car, and then realized I needed to get over myself already and just buy the freaking cookie dough! (It helped that I had a coupon for free cookie dough, which I had found on the floor of Safeway!) I baked up a dozen cookies for the lunches, and then hid the rest of the dough in the waaaay back of the fridge. This way there will hopefully be enough for Thursday's lunches. I could have easily mixed up another batch of cookie dough, but I had to help my mother clean one of her rental cottages in the evening.
I will be at work and not part of getting the kids ready in the morning, so I got the loose leaf tea ready with an instruction sheet for my husband. Yes. Seriously. He will reach for the tea bags otherwise. Don't judge me. I'm kind of bossy. But also nice. I did all the laundry, so I get to be boss for the day.
Oh, and I used some reusable wipes when cleaning my mother's guest cottage, and also some disposable nitrile gloves. Cleaning the bathrooms of strangers? That warrants a barrier. Plus I'm allergic to latex.
That is all. It's midnight and I have to get some sleep.
How is your Zero Waste week? Have you been making any changes to your normal routine? Please share your thoughts in the comments section below.
Katy Wolk-Stanley