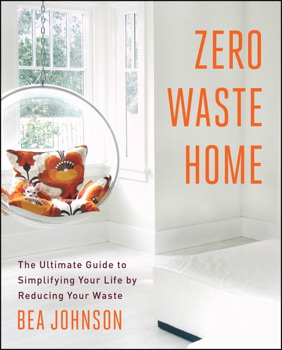 It's Day Two of Zero Waste Week, and so far my focus has been on food, food and . . . wait for it . . . food. Searching for businesses who sell without packaging, finding bulk sources and adjusting how my family cooks and eats.
So far, it's been a delicious experiment.
However, a family's household waste is not limited to the kitchen, so today I want to shine a spotlight on the rest of the house.

Here's what my family already does to minimize waste outside of the kitchen:
We refuse items on a regular basis. Promotional doodads, free whatzits and other people's discards do not need to enter my house.
I allow myself time to really think about having to buy stuff before I pull the trigger. I'm often able to come up with an alternate solution to my initial gotta buy it inclination.
We changed our Oregonian newspaper delivery to just Tuesdays and Sundays. I had originally fully cancelled the paper, but there was a special 99¢/week deal that would include the Tuesday/Sundays coupons. And since there's a monthly Tuesday $10-off $50 Safeway coupon, this seemed prudent. I don't use a ton of coupons, but I definitely use some.
We mend and repair before we replace. This includes backpacks, major appliances, decor, shoes, clothing, furniture and bedding.
We have eliminated single use products such as paper towels, napkins, Kleenex and pop-up cleaning wipes. Instead we keep a stash of T-shirt rags, cloth napkins, handkerchiefs and bandanas. I clean using washable rags. (I clean the bathroom sink by wetting the hand towel and wiping everything down whenever I switch out to a fresh hand towel.)
I use a menstrual cup instead of  tampons and pads. I switched over five years ago, and my only regret is that I didn't know to buy one decades earlier. I love that I no longer have to worry about keeping supplies on hand and being discreet with the bathroom garbage can.
Even though the initial cost is higher, we mostly use rechargeable batteries. (Yes for my husband's bike light, no for our smoke detectors.)
We take advantage of curbside composting, which accepts all garden products, food waste and food soiled paper.
We rent and borrow instead of buy seldom used items. This can be everything from tools, DVD's, books, trucks, furniture and gardening equipment. We also make sure to lend our stuff out such as our rug shampooer, tools, wheelbarrow, mini-van, books and games.
I own less clothing, which means that I treat it better. When you only own two pair of jeans, you sure as heck change into your single pair of paint-splattered pants before working on a messy project.
We share garbage service with our next door neighbors, which keeps us in check. I know we can't put out a ton of garbage, which forces us to think outside the can when it comes to how to best get rid of our unwanted stuff.
I rarely buy anything new. By choosing to forgo Target, there's very little product packaging that enters our home.
I make my own cleaning products. But mostly, I just just wipe stuff down with water. I'm not eating out of my toilet.
I try to keep junk mail to a minimum. I call catalogs to get off their mailing lists, as well as individual businesses and charities.
I bring my own bags for produce and general grocery shopping. I also know that not everything requires a bag in the first place. Buying five apples? Why even use a bag? To support this, I always keep a net bag in my purse, which takes up next to no space, yet stretches out for larger purchases.
I have also made myself an expert of where to recycle/rehome different things:
CFL lightbulbs — Ikea
Batteries — The Batteries Plus store will take spent batteries for recycling. It's free with purchase, otherwise you pay a small amount.
Styrofoam — Far West Fibers on S.E. 26th, although I see they have a Rosa Parks location as well.
Plastics  — Also Far West Fibers, although I was just told that they no longer accept hard plastic, like clamshells, etc.
Toxic Products — Metro services.
Large Unwieldy Items — Curbside with a "Free" sign. It's amazing what people will take with an eye for fixing up. Broken furniture, decrepit old barbecues, unbearably heavy shelving all find new homes here in Portland.
Still Usable Items — Goodwill or Craiglist. I prefer Craigslist over Freecyle, as I can post a photo and not be limited by the finicky Freecycle rules. Goodwill accepts ripped up and stained clothing and blue jeans for use as rags and home insulation.
Unwanted Gifts from Japanese Exchange Students — I donate some of these to the Japanese Immersion elementary school in my neighborhood. They're always happy to take them, and I know they'll be used and appreciated in that setting. (I don't give everything away, but there's a limit to how many decorative fans my family can accommodate.)
Unwanted and Outgrown Clothing — Consignment shops for both clothing and household goods can give you a small amount of money or store credit for stuff you'd have donated to Goodwill in the first place.
E-Waste — I first try to find someone who could use or repair our unwanted electronic devices, but after that I'll give to an e-waste location. Free Geek takes "Used Technology,"  and will likely bring the donation back to life before shipping it overseas for supposed "recycling."
Addendum:  I save spent gifts cards for my friend Lise. She teaches kids' silkscreening classes, and they use the gift cards to spread the ink across the mesh.
How we are producing garbage:
We buy too much packaged food. This means pasta, cereal, bread, liquid products, (olive oil, honey, milk, etc.) Trader Joe's food and ice cream.
The cats' litter boxes. I tried a cedar shavings litter once, and my cats took it as an opportunity to pee in the coat closet. Never again. We buy the clumping litter from Costco.
Constant decluttering of the house. As I delve into the never ending clutter, there's always stuff that simply has to go into the garbage. This includes photos, laminated stuff and a myriad of other things.
Lids. Whether it's from shampoo, food or household products. The lids are never ending.
I know these lists are specific to Portland, Oregon, but I included it so you might investigate your own city for similar resources. And needless to say, I work the getting-rid-of-stuff into my regular routine, so I'm not constantly driving across town. I'm sure there are gaping holes, so please add your two cents in the comments section below.
For additional Zero Waste information and resource, click on over to Zero Waste Home for a wasteless-ly good time.
Katy Wolk-Stanley