The following is a reprint of the previously published post.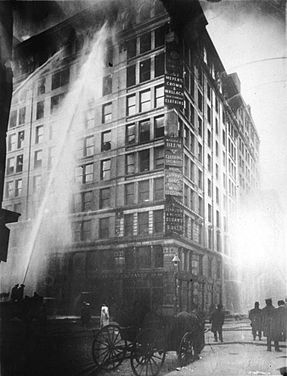 I'm a lucky person. Why? Because I was lucky enough to be born into a country that values workers' rights. As a hospital nurse, I take for granted that my enormous hospital has multiple fire extinguishers, fire doors, fire prevention protocols and policies that keep both people and structure from igniting.
Were Americans always so lucky?
No.
The industrial revolution hit our cities hard, and the influx of fresh immigrants meant that labor was both cheap and easily replaceable. Complain about your working conditions? Well there were many others who would be happy to take your job, so keep your mouth shut or get fired was pretty much the policy around the turn of the last century.
The New York City 1911 Triangle Shirtwaist Factory fire was a wake up call to America industry, and it allowed for the union movement to start bringing safe and reasonable working conditions to our workers. Child labor, unending work hours, locked work spaces and other blatantly unsafe working conditions finally got the scrutiny they deserved.
It wasn't immediate or easy, but unions brought safe workplaces to America.
Problem solved, right?
Wrong.
American manufacturers, now saddled with  the cost of paying working wages built overseas factories in countries that did not require the same workplace safety measures. Where cheap unending labor was once again easy to find and where abject poverty was the norm.
I wrote in 2010 about a factory fire in Bangladesh that killed a least a hundred people, where most deaths were attributed to workers jumping from upper story windows because a gate to the stairwell was locked.
Read that again, the stairwell was locked.
This garment factory was producing clothing for Gap, JCPenney, H&M and Wal Mart.
And now the story of another Bangladeshi garment factory fire has hit the news. 
"The Tazreen fire is the latest in a series of deadly blazes at garment factories in Bangladesh, where more than 700 workers, many making clothes for U.S. consumers, have died in factory fires in the past five years. As previously reported by ABC News, Bangladesh has some of the cheapest labor in the world and some of the most deplorable working conditions."
I like a bargain as much as the next person, probably more. But there is a cost, a human cost to all those super cheap deals.
I will not be taking advantage of all the awesomely cheap consumer goods to support my holiday shopping this year.
Or any year.
Join me and buy used, buy American, buy local, buy from manufacturers who certify their safe labor practices.
And keep those poor workers and their families in your thoughts. They are just as deserving of safe working conditions as you and I.

Katy Wolk-Stanley
"Use it up, wear it out, make it do or do without."
Click HERE to follow The Non-Consumer Advocate on Twitter.
Click HERE to follow The Non-Consumer Advocate on Instagram.
Click HERE to join The Non-Consumer Advocate Facebook group.
Click HERE to follow The Non-Consumer Advocate on Pinterest.