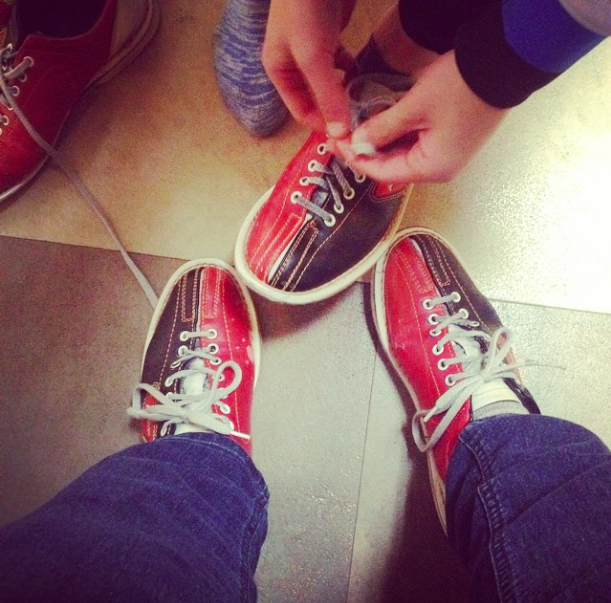 Yesterday was my younger son's 17th birthday, and as always we made a rather enormous to-do about it. Which for us means a Birthday Day of Adventures over the weekend, plus a celebration on the actual birthday.
I know it seems like I write about nothing besides birthdays lately, but that's only because my focus has been entirely consumed by birthdays over the past week as my husband and son's birthdays are a mere three days apart. I already wrote about what we did for my husband's 50th birthday. (a Day of Adventures on Tuesday, plus cupcakes and home cooked steaks on his actual birthday.)
On Sunday I planned out a day of fun and frugal Day of Adventures, round two:
First we took our sorry selves to a nearby bowling alley for a game. I had printed out four coupons for free bowling by watching this short promotional video, which dropped the price to the cost of the shoe rental. ($16 for the four of us.) Why did I write "sorry selves?" Because not one of us can bowl for sh*t. Seriously, we're laughably awful! The highest score any of us bowled was a 57! Still though, very fun. (Yes, we asked for bumpers, but were told they were "just for kids." Says who?!)
Our second stop was to grab lunch. My son loves falafel, so I searched through Yelp to find an inexpensive joint. My research totally paid off, as the unassuming Gyro House on 82nd avenue was knock-your-socks-off amazing! We'd hit up a yummy falafel food cart last year, but the somewhat Rockefeller-esque cost was $10 apiece, so the $5 falafel at Gyro House was much more within our Wolk-Stanley-esque budget. My husband and older son ordered gyros, and I chowed down on a salad with lamb. So delicious!
Next up was the Asian super store Fubonn, where the kids each picked out a Pocky treat. (They both chose green tea/matcha flavors, although my older son picked the long slender box while the birthday boy grabbed the short squat ones.)
We then drove across to town where we sat down for Starbucks drinks. My husband buys their drip coffees while at work, and had earned two free drinks, plus had his free birthday coffee burning a hole in his pocket. The boys both ordered enormous green tea frappuccinos, and my husband indulged in an enormous caramel macchiato. I abstained, as I wasn't in the mood for an overly sweet treat. (I did have a blog reader come up and introduce herself, which is always fun. Nice to meet you, Rachel!)
Our last stop was the historic Mission Theater, where a Sunday evening flick set us back just $4 apiece. We watched the Colin Firth movie The Kingsmen: Secret Service, which we all liked, although it was bizarrely inappropriate for most kids. (I had wondered why it was rated R.)
Our plan had been to grab slices at Escape From NY pizza, but we were still all stuffed from our lunches, so by unanimous decision we drove home to recuperate from our adventuresome lifestyle.
The day was a huge success and set us back a mere $64. For an entire long day of food and activities!
My son was completely satisfied with his birthday celebrations, (which included takeout fried chicken with family yesterday) and is set for the countdown until his eighteenth birthday. My husband did buy our son a $50 soccer jersey, but that was it. Teenage boys like to eat and do stuff. They generally don't want things, which fits perfectly with my simple living proclivities.
I love celebrating my family's birthdays, but am ready for a rest now. No more family birthdays until October!
What does your family do for birthdays? Please share your traditions in the comments section below.
Katy Wolk-Stanley
"Use it up, wear it out, make it do or do without."