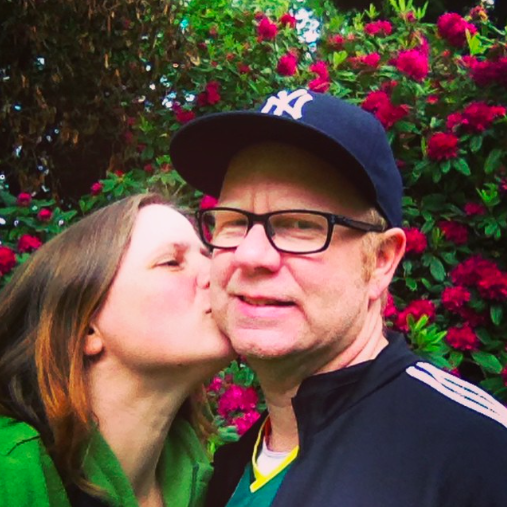 Although my family's birthdays are generally spread out throughout the year, we do have a few that clump up in the middle of May. First around the bend is my husband's on May 16th and then my younger son's on the 19th.
But that doesn't mean they don't each get their own celebration. And in my family, we do a Birthday Day of Adventures. (Although we also call it a "Birthday Day of Surprises.") Essentially I plan out an entire day of fun for the family, and each component is a surprise and individualized towards what the birthday person actually likes to do.
For example, my son's 19th birthday included an Indian food buffet, a $2 movie at a local historic theater and free outrageously sweetened Sawbucks coffees, (which my husband earned from buying drip coffees.)
I spend weeks figuring out what the day should entail, and it leans heavily towards what can we do for free or almost free? I enjoy the challenge and hoard discount vouchers throughout the year.
This year my husband's Day of Adventures came a few days early to accommodate his work and volunteering schedule. (I decided to have his day be just the two of us, as we rarely get out as a couple.) My plan had been to start out by taking him to lunch, but he slept too late, so I fixed him bacon and eggs at home. We drove out to Ikea, where we sat in the cafeteria and lingered over free coffees using our Ikea Family cards. We then walked down to the food section and I used my $20 store voucher to purchase bags of frozen meatballs and gravy packets. This would cover dinner.
We then drove to the Crystal Springs Rhododendron Gardens to walk around the park. It normally costs a few dollars to enter, but Wednesdays and Thursdays are free. It had been threatening rain, so we almost had the park to ourselves. The rhodies are are in bloom right now, so the garden is at its gorgeous, gorgeous peak. (Seriously, so gorgeous!) We really enjoyed strolling through the grounds and reminiscing about when we used to bring our energetic sons here to run off steam and feed the many varieties of ducks and geese.
At this point we'd worked up an appetite, so I took my husband to Porque No, a local Mexican restaurant. I had enough completed punch cards to pay for his lunch, although I did pay the $8.50 for my meal, but that's certainly within our budget.
Dinner at home was the four of us and included the Ikea meatballs with gravy, as well as mashed cauliflower and peas.
I didn't buy my husband any gifts, although I did tell him he could treat himself to something that he's been wanting for a while. (A soccer jersey.) The actual day of his birthday is tomorrow, and he plays a soccer game in the evening. I'll bring a couple dozen homemade cupcakes to the game for his teammates, and then we'll come home for a scratch cooked dinner and birthday cake.
Then Sunday we'll spend the day celebrating my younger son's 17th birthday, and of course I've stashed coupons and planned cheap activities planned for the day. I love how this tradition is fun for the entire family, and not just the birthday guy. (It's almost like we each get four birthdays per year!) And of course I love the creative challenge to fill the day with activities and treats that keep within our budget.
Not one of us needs more possessions or clutter, but we certainly do need to step back from our busy lives to spend time together and explore this great city we live in.
Experiences trump things.
Katy Wolk-Stanley
"Use it up, wear it out, make it do or do without."