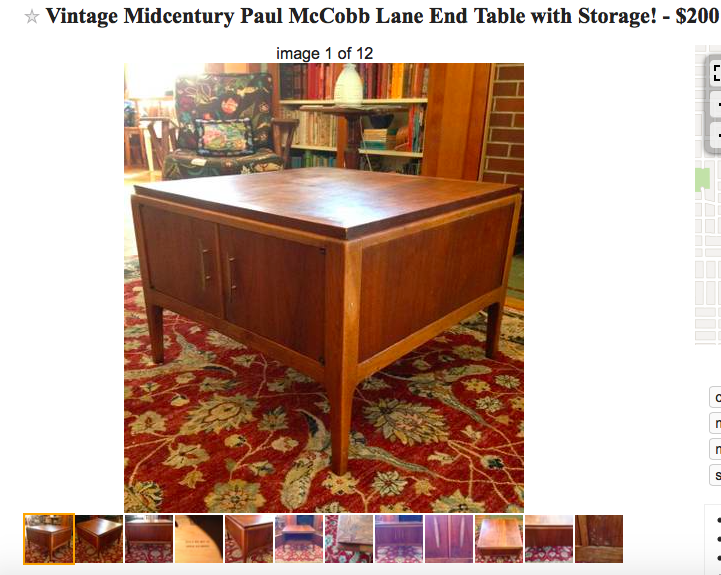 I took a quick trip to Fred Meyer this morning to pick up Tillamook cheese, as it's on sale for $4.99 per 2-lb brick. I'll likely stop in a few more times this week, as the expiration date is around six months out. I also picked up a $1.39 gallon of 1% milk, which was nearing its expiration date. We usually buy whole milk, but I make an exception when it's so deeply discounted. #WhatAmIaRockefeller?
I hung three loads on laundry on the clothesline at the same time, which may be a record. It took a lot of hangers and doubling up on a few lightweight things like fleece blankets, but in the end, everything was dry. I know this probably only saved me around a dollar, but it gives me great pleasure, plus our clothing lasts a heck of a lot longer.
I finally listed my thrifted Lane table that I refurbished. I'll be sad to see it go, but we're about to pay out an enormous amount of college tuition for the fall term, so any bonus money will be welcome. I also signed up for a month of hospital shifts yesterday, which was much simpler as I no longer need to work around the kids' schedules. Sniff . . . 
I darned a pair of my son's socks which had two holes and one about-to-be hole. It took awhile to complete, but I had Tina Fey and Amy Poehler in the movie Sisters to keep me company.
I stopped into a fancy women's clothing consignment store the other day, as they always have a basket of free hangers for the taking. My son will need these for his dorm room, and the way I figure it, every dollar saved is an extra dollar for tuition, room and board.
Now your turn. What frugal things have you been up to?
Katy Wolk-Stanley