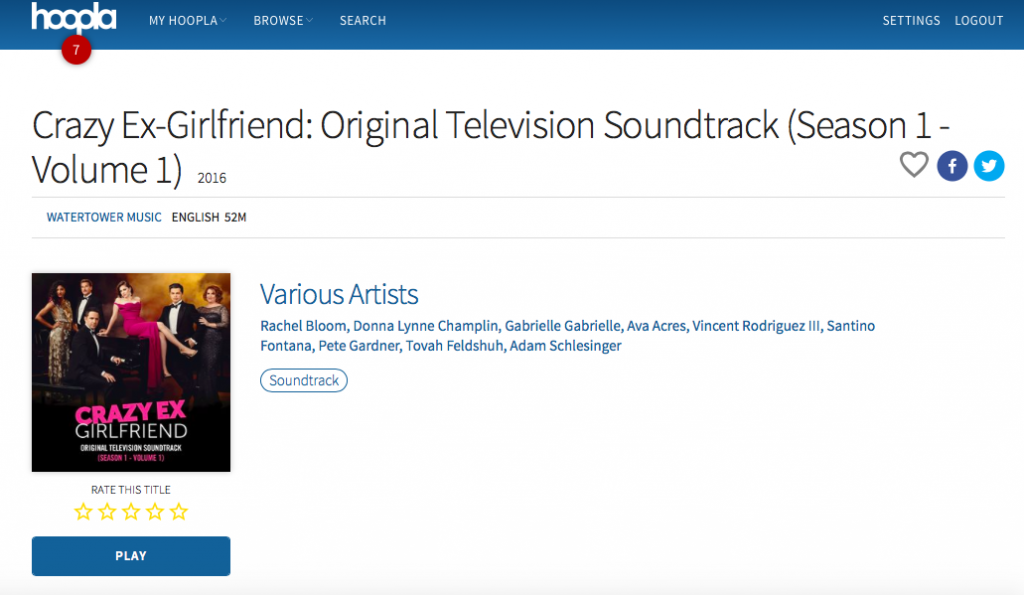 I worked Sunday and brought leftover chicken curry soup for lunch. (For those who asked for the recipe, I simply added chicken to this recipe, although I didn't puree it.) Of course I drank the free coffee. I was hungry on my way home from work, but remembered that I had a banana that I'd never had a chance to eat. In a 12-1/2 hour hospital shift I usually get a single 30 minute break, so I'm exhausted and starving by the end.
I used up the last of a bottle of white wine to assemble one of The Pioneer Woman's chicken pot pies. I hardly ever drink alcohol, so finishing a bottle of wine usually involves incorporating it into a recipe. I know this makes me a freak, but I've come to terms with it. 🙂
I love the hilarious music from the TV show Crazy Ex-Girlfriend, so I decided to check if my library had the first season's soundtrack. Not only did they have it, but it was on Hoopla, which meant I was able to immediately listen to it on my phone through the Hoopla app. And since I was already on the library website, I put the second seasons of Outlander and Masters of Sex (Showtime series about Masters and Johnson) on hold as well.
A neighbor is organizing for people on our street to put Black Lives Matter signs in our yards, and I put in an order for one. The more that people order, the less each sign will cost.
I didn't buy a Lear Jet or a gold plated apartment in the sky.
Now your turn. What frugal things have you been up to?
Katy Wolk-Stanley