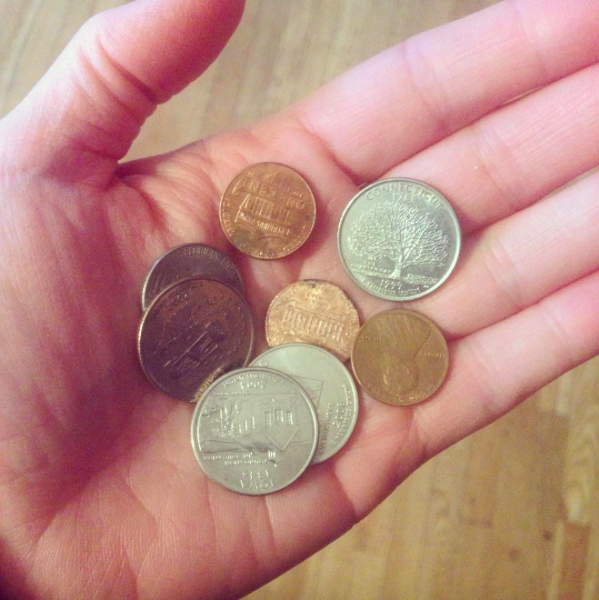 I went for a walk with my friend Lise yesterday. We dropped off plastics recycling, deposited checks at our credit union, returned library materials and then stopped into Fred Meyer, where I bought bananas and two loaves of 79¢ clearance-priced bread. I didn't use Pi Day (3/14) as an excuse to buy a $3.14 apple pie, as 1) I don't understand what "Pi" really is, and 2) I'm better off without a gross but delicious grocery store pie.
I ran my hand under the coin counting machine at the credit union and was rewarded with four quarters, one nickel and a single penny. I added this money to my Found Change Challenge jar.
I put together two quick offers for my Buy Nothing Group. I now have people in a hippity-hoppity mood to come over to pick up boxes of leftover sparklers and four packets of matcha green tea powder that I received as gifts. Slightly less clutter in my kitchen and I put already manufactured goods into the hands of people who will use them, I call that a win!
I wrote and submitted two new articles for Clark Howard yesterday. The next tuition/room/board payment is looming large, (April 1st) so I'm taking full advantage of any and all income opportunities. I'm puttering around the house today to get ready for house guests, but hope to put together at least one more article.
I didn't buy a Lear Jet or a vulgar gold-plated apartment in the sky.
Now your turn. What frugal things have you been up to?
Katy Wolk-Stanley