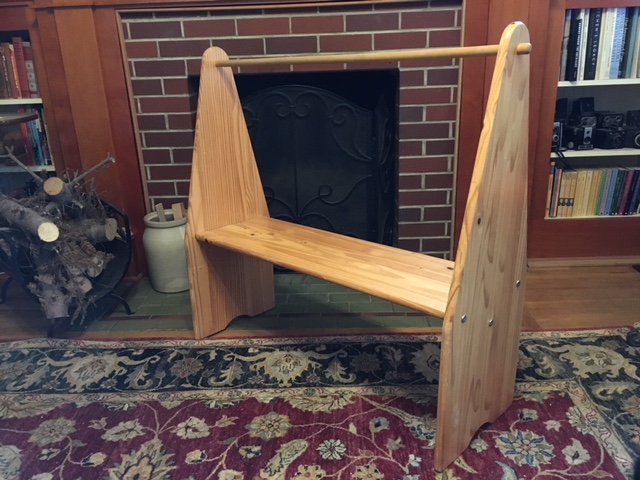 I picked up a $10 Waldorf wooden play stand at Goodwill with an eye for resale, as they're more than a hundred dollars when bought new. This item was not on my radar, (I'd never heard of it before) but it was in the background of a photo I'd posted on Instagram and a couple of my savvy followers were quick to point it out. I don't have any interested buyers yet, but my experience is that parents of small children are willing to pay a bit more for the type of quality products not sold at Toys R Us.

I did sell the Thule bike rack that I'd picked up a couple of weeks ago. The used bike rack shop had declined it as it turned out to be an older model, but I still found a buyer through Craigslist.

I'm scheduled to work three 12-hour hospital shifts this week, which is good since I've taken the last two weeks off to spend time with my kids and then my sister and her family while they visited from New York. I'm in an scheduled on-call position where I don't accrue vacation time, so this was all unpaid. With the recent spring tuition payments and looming taxes, these are lean times at casa Wolk-Stanley. 

My husband filled the crockpot with a huge batch of pinto beans, which we've been using as the base for multiple meals over the past few days. With the addition of rice, veggies, tortillas and such, we've been enjoying a number of frugal, filling and flavorful meals.

The two of us walked to the grocery store yesterday, and not only did I find a dime and two pennies for my Found Change Challenge, but we enjoyed some cookie samples, picked up a 99¢ half-gallon of milk as well as the Kroger Friday Freebie, which was an date/nut energy bar. I'd planned on picking up some 19¢ Trader Joe's bananas earlier, but the store was so busy that I couldn't even enter the parking lot. So yes, I forked over the money for full price bananas!

I listed a hairbrush on my local Buy Nothing Group, as it's one that I never use. (It was a gift.) I try to not own unnecessary duplicates of household items, and the Buy Nothing Group is the perfect way to put my extraneous things into the hands of people who will use them.

I took my sister and her son to the Supercuts training center for free haircuts. My sister had expressed interested in getting haircuts while in Portland, so I made the appointments. Their family is on a strict budget at the moment, and both were completely satisfied with the results. The inexpensive salon in my sister's neighborhood charges $40 for a cut, so this was a slam dunk.

I didn't buy a Lear Jet or a vulgar gold-plated apartment in the sky.
Now your turn. What frugal things have you been up to?
Katy Wolk-Stanley    
"Use it up, wear it out, make it do or do without."