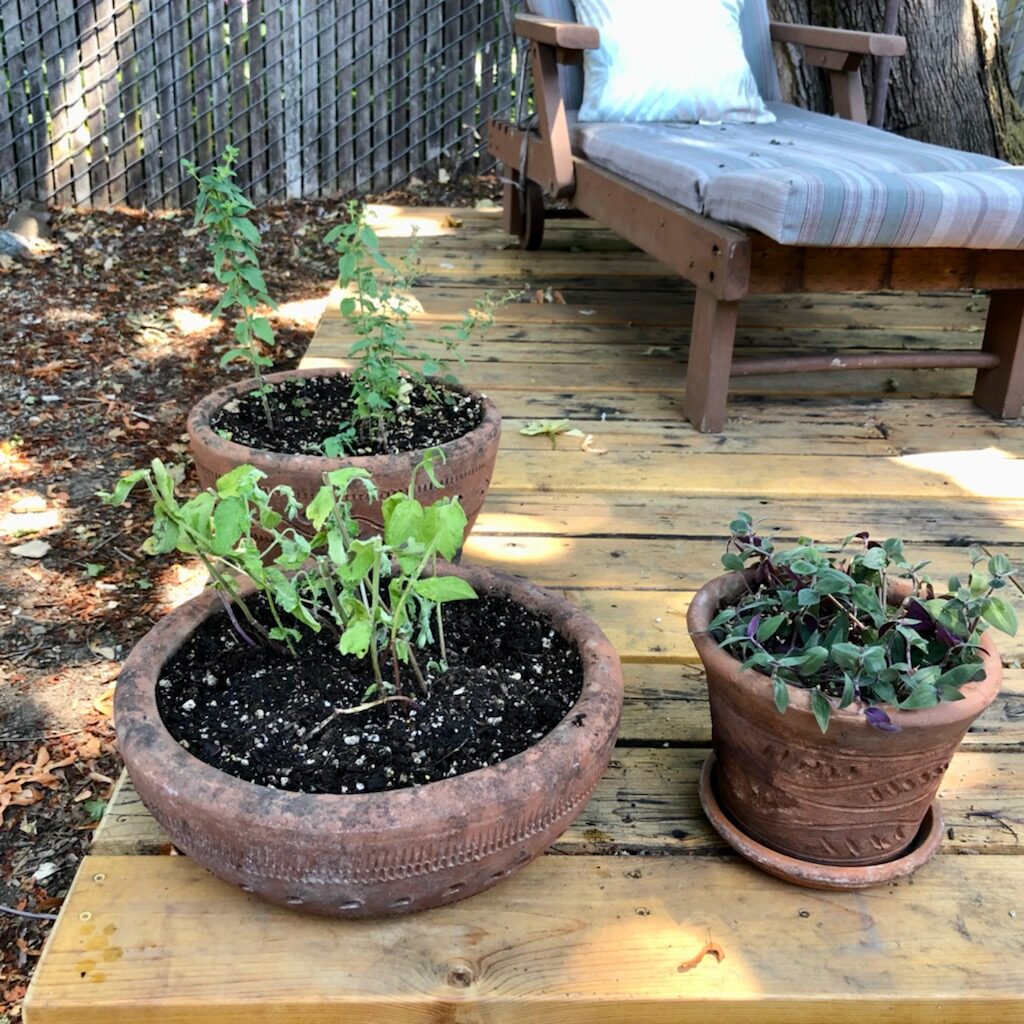 The mint I was rooting on my kitchen windowsill was taking forever to grow roots, so I asked a neighbor if I could have a bit of the mint that plagues her backyard. She dug up a plant and brought it over that evening and I quickly planted it in one of the Mexican terra cotta pots that I scored for free a few weeks ago. I'm fully aware of how invasive mint can be, which is why it's in a pot. It's a bit scrappy now, but I expect it to fill in. My goal, as always, is to spend no money.

I later lent her our recycling bins to block off our street for her son's (fully permitted) birthday party, complete with rented bounce house and water slide. Almost all of us on this block do nice favors for one another, which helps us all be comfortable asking for help when needed.

I saw an article about how a few different Pittsburgh museums will be free during the month of August, so I went to their websites and was able to reserve four tickets to the Smithsonian Heinz History Center. My husband and I will be in Pittsburgh to visit with family next month, so this is perfect timing! These tickets are normally $18 apiece, so I'm very excited with this score, especially since they have the original Mr. Rogers set as an exhibit!

I've been slowly deep cleaning and reorganizing my kitchen and gave away a number of random things through my Buy Nothing Group.

• Two can of Sterno canned cooking fuel.
• A set of vintage milk glass spice jars along with their original shelf.
• A collection of assorted miniature kitchen items that I'd passively collected over the years.
• Three slightly chipped vintage Fiestaware bowls.

I also assembled a couple grocery bags of miscellaneous things to donate to Goodwill and let my kids paw through everything before it got donated.

• My mother read my Khloe Kardashian blog post and gave me a half-gallon mason jar from her basement. She also gave me a pair of hand me down outdoor cushions to replace a couple of worn out ones.
• My friend Lise and I stopped by 7-11 on free Slurpee day. Even though I'm friends with the franchise owners and they never charge my family for Slurpees.
• My mom let me put some bubble mailers in her pricey Ridwell recycling box.
• I drove through McDonald's on free french fry day and then swung by my daughter's apartment where the two of us shared the large order with lots of ketchup.
• I started listening to The Break, by Marian Keyes through the library's free Libby app.

I didn't buy a Lear Jet.
Katy Wolk-Stanley
"Use it up, wear it out, make it do or do without."
Click HERE to follow The Non-Consumer Advocate on Instagram.
Click HERE to join The Non-Consumer Advocate Facebook group.