I look around my house and almost everything is either thrifted, curb picked, upcycled or horked* from my mom's house. Even so, I think my house looks great despite the humble origins of all my furnishings.
Of course a house described as fully thrifted or garbage picked doesn't paint a pretty picture. So much so that Stephanie Becker, the producer for my Today Show segment wrote a whole article about how surprised she was that my house wasn't "A house of horrors — decrepit furniture, smelly clothing and broken-down appliances — but instead, her home was lovely and homey."
Umm . . . thanks?
I've shared the following projects over the years, but thought it would nice to post a recap of a few pieces in a single blog post.
I painted this curb picked Union Jack side table in 2015 and it's since served as everything from a side table to its current iteration as a plant stand. It weights next to nothing and the side flaps flip up for a larger tabletop. Super handy, I'll keep it forever.

I refinished my Princess Katy bedside table in 2010, having used it previously as my 25-year-old son's changing table. My mom likely thrifted at for a couple bucks at the Goodwill bins and it's a keeper. I garbage picked the vintage glass knobs from someone's broken down desk.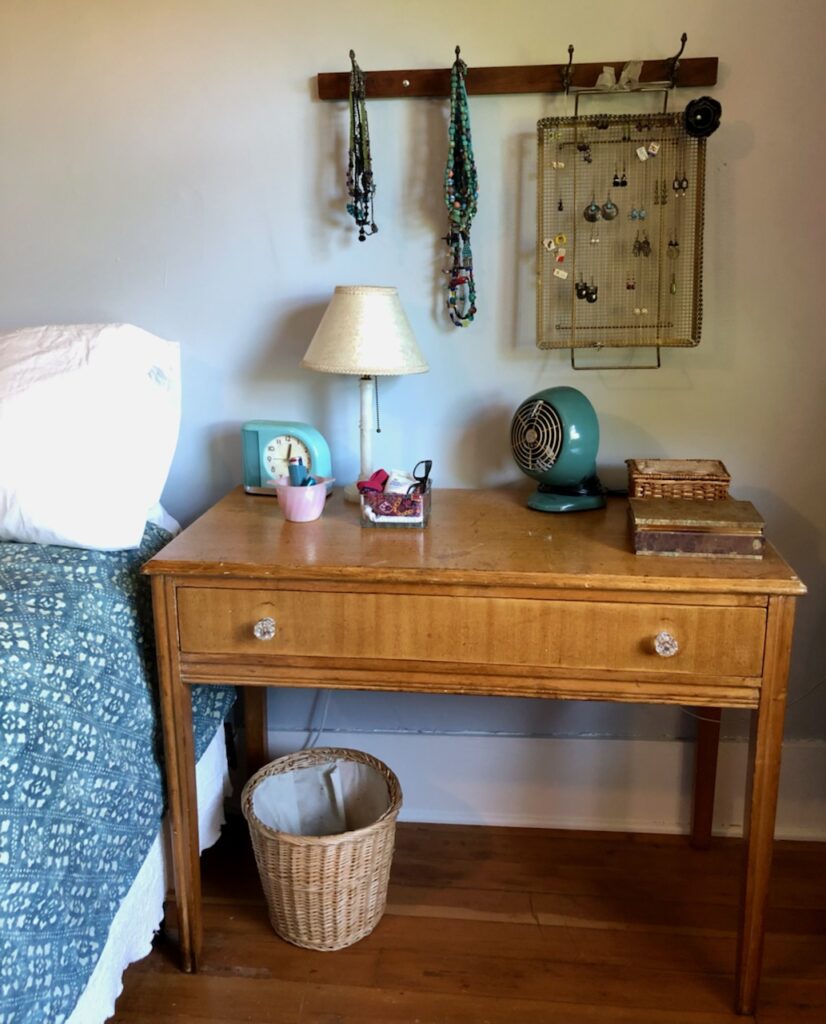 Our kitchen island is also a 2010 project and involved no purchases beyond the single $89 piece of IKEA butcher block. We already owned the metro shelving which kept this project under budget. Not only does it have storage, the prep space is a thing of beauty. Mwah!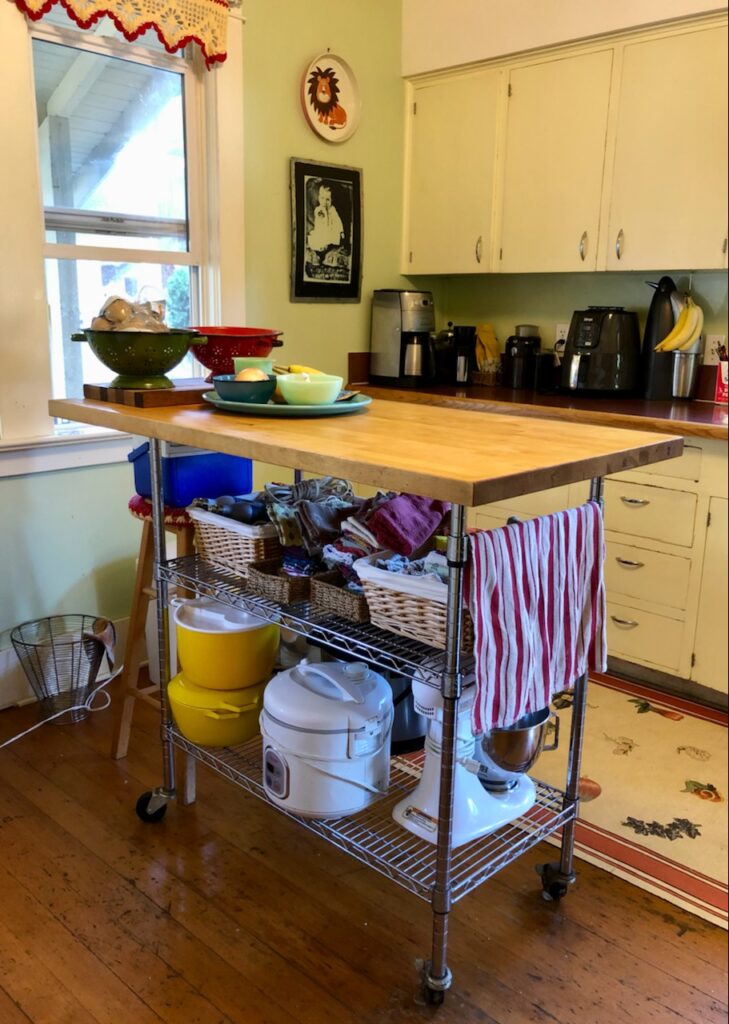 This 2015 campaign dresser is not only strong enough to hold the 165 pound got-it-for-free TV in our bedroom, but also neatly contains all our family photos. I splurged and paid $19.99 for this Goodwill dresser, but balanced that out by spending just $2 on the paint at the Habitat Restore. Classic lines plus ungodly heavy means this one is also a keeper.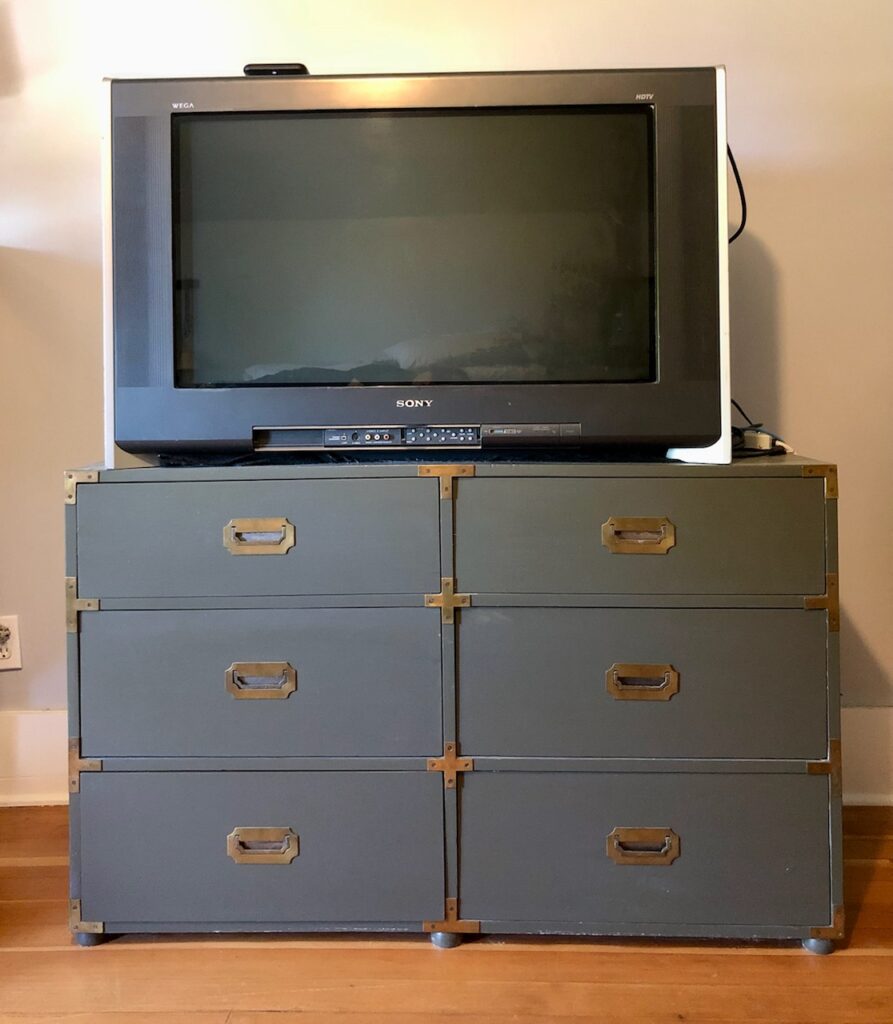 I hope you've enjoyed seeing these frugal furniture projects all in one place. Especially since my home is not a "house of horrors!"
Katy Wolk-Stanley
"Use it up, wear it out, make it do or do without."
Click HERE to follow The Non-Consumer Advocate on Instagram.
Click HERE to join The Non-Consumer Advocate Facebook group.
* "Horked" is defined in my family as "borrowed without a plan to ever return." It's an excellent word, which I highly recommend adding to your vocabulary!