I love, love, love the Portland area Goodwill stores. And although I'm on a mostly pay-by-the-pound Outlet kick lately, there are still bargains and entertaining oddities to be found at their regular retail stores as well.
I don't have a specific list of items I keep an eye out for, although there are general categories of things that draw me in.
Odd Things: 
I didn't buy any of the items in the following photo collage. Especially not the infant/doll/dog sweatshirt that boasts that it "brought sexy back." None of the wearers should be considered "sexy," so yes, it warranted a photo op.

Targeted Savings Banks:
Of course, I'm always on the lookout for what I call "targeted savings banks." And Goodwill does not disappoint. That barrel of money? Totally empty!
Bait and switch, Goodwill. Bait and switch!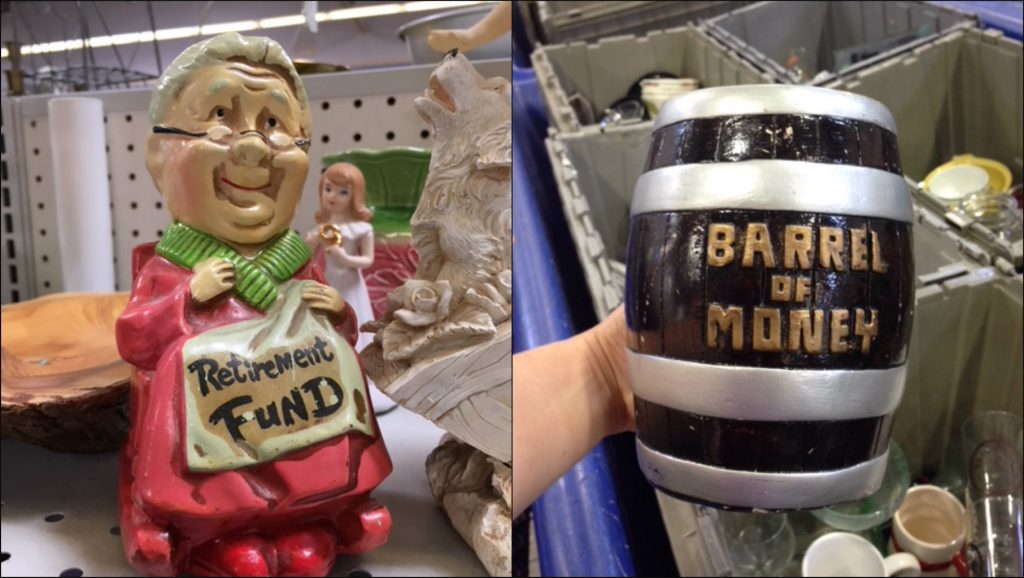 Fodder For Selfies:
There are some Goodwill items that beg to take photos with me, and who am I to refuse that request. I didn't buy any of these things, although I kind of regret not getting the satin bomber jacket.

The Good Stuff:
However, not all Goodwill items get left behind, as I enjoy a good flip to plump up the ol' college fund. All four of these items recently made it into my cart and out of the store.
The vintage Dremel electric shoe polisher worked perfectly and had good completed sales on eBay, so I bought it to resell. However, my husband bonded with it, which means that it now lives at his workplace for his shiny boot needs.

The Vans woven throw blanket looked brand new and also had good completed sales on eBay. I listed it on eBay and quickly sold it to someone who lived not far from me in Portland.

The striped suitcase was a collaboration between a high end designer and Target. (Her designs are normally sold at Lord & Taylor.) It was only offered briefly and had a great resale value. It was in excellent condition and I was able to sell it for a nice profit through Craigslist. This purchase was an example of how I try to only buy items for resale if I'd be happy to keep them if it turns out that my instincts were off. It was super cute with a cheery bright apple green interior.

The over the door hooks are a knock off/inspired by the Eames hang-it-all system that normally sells for $199. Again, I figured it would be handy to own if I couldn't find a buyer. Luckily my instincts were right on this one, as I bought it yesterday, listed it on Facebook Marketplace last night and already have three interested buyers. It won't make a big profit as I priced it pretty low, but it will pay for the chocolate malteds that my mother and I enjoyed yesterday afternoon.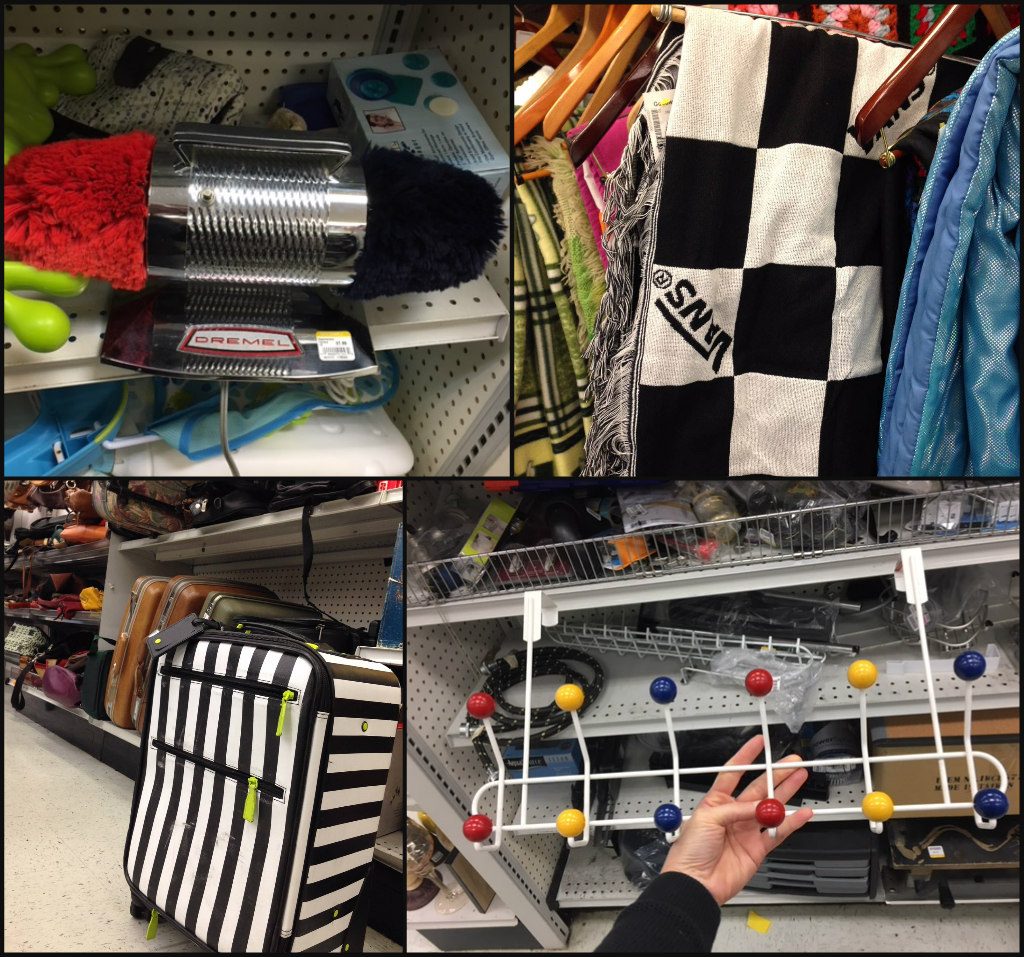 The great thing about thrift shopping is that you can buy high quality items without paying high quality prices.
Just yesterday I paid $19.84 and bought:
A Talbots down puffer vest.

Four pairs of $50 – $225 jeans for resale.

New looking Levi's and a Pendleton wool sweater for my husband.

The perfect color coiling phone cord for one of my vintage phones.

A new in package paint brush.

A Vera Bradley purse.
I call that fabulous-will!
Katy Wolk-Stanley
"Use it up, wear it out, make it do or do without."