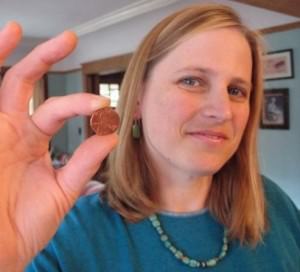 I started writing the blog on May 20th, 2008 with a post titled Welcome to The Non-Consumer Advocate. Explaining that:
"Anyone knows how to live well in good times – lots of delicious dinners out, sumptuous presents for all, great clothes and furnishings. The art is to know how to live well whether your income is up or down. And live well we do. A nice big house in Portland, Oregon, classic comfy antique furniture, cool kids, really – the 'American Dream.' "
Over the past five years my writing has hopefully gotten a lot better. (Malcolm Galdwell writes that it takes 10,000 hours to become an expert in your field, and I feel like I've spent close to that on blogging!)
I've written 1845 blog posts, received 44,272 reader comments, given countless interviews and turned down a bijillion scammy advertising and sponsored post offers.
A few of my favorite posts, in no particular order (and likely leaving out the obvious) have been:
But my favorite part of blogging has been the interaction with you guys, the readers. I've found amazing inspiration and ingenious ideas from all of you, and have surprised myself with what a true community The Non-Consumer Advocate has become. (The Facebook group for the blog has over 5,000 extremely active members!)
I've made wonderful friends through the blog and although my life would be simpler and easier without the almost daily writing task, I don't see myself stepping down anytime soon.
Thank you, thank you, thank you for being part of my world, dear readers! You make me laugh, give me ideas and inspiration and keep me in check.
Stay frugal, my friends.
"Use it up, wear it out, make it do or do without."
Click HERE to follow The Non-Consumer Advocate on Twitter.
Click HERE to follow The Non-Consumer Advocate on Instagram.
Click HERE to join The Non-Consumer Advocate Facebook group.
Click HERE to follow The Non-Consumer Advocate on Pinterest.